A security guard was discovered dead behind his work site in Rose Hall Town in the wee hours of yesterday morning; he had been bound and gagged.
Chandrabhan Persaud, 55, of Whim, Corentyne was working at the Lucky Dollar Rose Hall branch.
A police press release said that Persaud "hands and feet were tied and his mouth gagged."
The release also stated that "the building was broken into and several articles suspected to have been taken away which are yet to be ascertained." The man was an employee of RK's security firm.
Persaud was discovered sometime after 3 am.  It is believed that the bandits attacked him first and tied him up before breaking into the store.
Yesterday morning market goers crowded the area as news of the incident spread. Many citizens expressed shock and sympathy.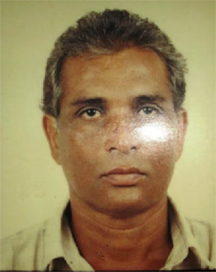 Security Supervisor (ag) at the Lucky Dollar branch Gopaul Kissoon related that during the wee hours of yesterday he received a call from his manager, who had been alerted by occupants in the top flat of the building. Kissoon said his manager was told that an irregular noise was coming from the bottom flat and the alarm was going off.
Kissoon said that while he was trying to contact the security officer he received a second call from his manager informing that she heard Persaud died. "I said what! And call up the other persons and told them what happen," he said. Persons from the office alerted the police.
"When I arrived at the scene police had just arrived and we rushed to the back of the building. We find he tied up… His hands and foot were tied with a piece of canvas rope and some old cloth. In his mouth had a piece of black cloth…," said Kissoon.
It appeared that the bandits had moved a table from the rear of the building and stood on it to break the concrete vent blocks, ripping out a piece of mesh that covered the vents. After gaining access to the building, the men broke a door halfway and entered the store, where they collected a quantity of electrical gadgets and cash.
Efforts to contact Lucky Dollar managers were futile.
At the scene, Persaud's widow Satyawattee Persaud wailed uncontrollably.  "Oh! He come, come work for he daily bread and them kill he… He was a good man nobody he na interfere," she lamented.
At the woman's Lot 135 Whim home, she related to Stabroek News that at around 6 am a neighbour called her and told her that someone was killed at Lucky Dollar. The woman said in that moment her heart ripped apart because she believed it was her husband. Mrs Persaud said when she arrived at scene she confirmed her worst fear.
She lamented the last time she spoke to her husband was on Friday before he left for work.
Stabroek News learned that Persaud had worked with the security firm for approximately one year. He was a carpenter by profession but had begun suffering with pain in his hand so he stopped and took the security job.
Persaud's body is at Ramoo's Funeral Home awaiting a post-mortem examination. He leaves to mourn his wife and other family members and friends.
Stabroek News also learnt that a few days ago there was an attempt to break into the Lucky Dollar store.
Meanwhile, business persons present at the scene were heard expressing disgust at the climbing crime rate on the Corentyne.
On Thursday AK Pawn Shop and Variety Store located a building away from Lucky Dollar, was robbed of millions by armed men. The incident occurred during the midday hour, when three men walked into the store and cleaned out the jewellery and cash. When Stabroek News approached the proprietor for a comment he declined, stating that the men already gone with the valuables.
Comments

Grace Mugabe   HARARE,  (Reuters) – Zimbabwe's first lady Grace Mugabe returned from South Africa early today, state media reported, after a 20-year-old model accused her of assault in an upmarket Johannesburg hotel room.

Michael Bhopaul, 16, doesn't know if he is this year's best performer at    the Caribbean Secondary Examination Certificate (CSEC) Examinations, but with preliminary results showing that he has obtained passes in 25 subjects, he will be hard to top.

Inmates at the Lusignan Prison turned over 33 improvised weapons yesterday morning to prison authorities, who say that they also apologised to the prison staff for the unrest at the facility on Friday night.

Well known Berbice attorney Chandra Sohan was arrested on Friday after he allegedly struck a pedestrian in a hit and run accident along the Williamsburg Public Road.

For a little more than an hour yesterday, the streets outside the Mackenzie Market rang with the voices of dozens of Linden residents who turned out to support a march against homosexuality.