Edmay McIntosh, a Surinamese who migrated to Guyana during World War II with her parents after all English-speaking people were called to return their home country, today celebrates her 101st birthday.
Sitting in a wheelchair at her home in Stevedore Scheme, North Ruimveldt McIntosh told Stabroek News that she was grateful to have lived such a long life, claiming that a peaceful and contended attitude contributed to her longevity.
"When people come and visit me they would be shocked because of my strength and ask 'what? You are so old and look so well?'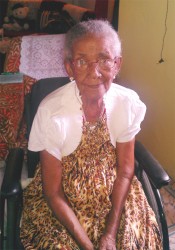 but then I would tell them that I lived a quiet life and was contended with what was given to me," she said.
McIntosh said she left Paramaribo at a young age when her father, a Guyanese, was called back to his home country. "My father used to tell me that I was born on a Sunday morning before the church bell rang," she said.
Her family had moved to the Corentyne River where she spent most of her life, met her husband and raised four children.
She earned a living throughout her life by washing people's clothes. "I used to work until I fractured my hip last year," she said.
When asked about her secret to long life, McIntosh said: "Greens and fruits and a lot of rice. I like my rice with nice stew."
She said that she had moved to the United States of America to live with her eldest son but soon became home sick. "I always wanted to come back home but my son didn't want me to come back," she stated. But then death struck her family and she was forced to return to Guyana when her daughter died. "I had to come back and take care of my grandchildren," she said.
McIntosh raised her daughter's children, labouring as a domestic worker. "I worked until I fall down and fractured the hip," she repeated.
The fractured bone not only confined her to a wheelchair but took away her freedom to go to church. "I can't go anymore but the father [priest] would come and give me communion and talk with me," she added.
Comments

A sketch of the proposed Curepe Interchange (Trinidad Guardian) China Railway Construction Corporation (CRCC) has been awarded a $221.7 million contract by the National infrastructure Development Company (Nidco) to build the controversial Curepe Interchange, the state company's chairman Herbert George has confirmed.

Legal Advisor to the Police, retired Justice of Appeal, Claudette Singh yesterday testified that there was insufficient evidence in the allegation made by Andriff Gillard of an alleged plot to assassinate President David Granger.

Today at 2 pm the 30 councillors of the Georgetown City Council will once again cast a vote on the future of metered parking in the city and several of them have told Stabroek News that they want to be sure their vote accurately represents a mandate from residents.

Crime Chief Wendell Blanhum yesterday made a written request to be recalled before the Commission of Inquiry (CoI) investigating the allegation of a plot to kill the President of Guyana to defend himself against "appalling" statements made by Assistant Commissioner of Police David Ramnarine.

Two men were yesterday remanded to prison by a city magistrate after they were charged with the fatal stabbing of Rawle Rodrigues which occurred in January.