A restaurant employee was shot to the abdomen yesterday morning by a lone gunman who attempted to rob the Water Street business where he works.
Police said that at about 10:15 am yesterday, a man armed with a handgun attempted to commit a robbery at the Mexican Grille and Bar, Water Street, Georgetown, which was thwarted by employee Jason Fraser, 29 years, who was shot and injured to his abdomen in the process.
It was further stated that the armed man managed to escape and Fraser has been admitted to hospital.
Fraser of Lot 57 Robb Street, the supervisor of the Mexican Grille, was in his office around 10.15 am yesterday when the gunman entered the restaurant's side door, according to the restaurant's owner.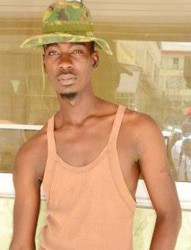 Employees said that when the gunman, who appeared to be in his late teens, entered the restaurant, no one was suspicious since he walked in casually. An employee said the gunman then approached Fraser, a father of one, who was in his office and demanded money. A scuffle ensued, during which Fraser shot once was to the lower left side abdomen.
The owner of the restaurant said that no money is stored on the premises, so there was nothing for the bandit to steal and he escaped empty handed.
He added that employees said no one heard the gunman's gun go off and they only found out what had transpired when Fraser called for help after the gunman had left.
An employee said that while she did not witness the attack, she went to Fraser's rescue when he called for help and found him sitting and holding his stomach. She added that she immediately called arranged for him to be taken to the Georgetown Public Hospital.
The entire ordeal lasted less than five minutes.
When Stabroek News contacted Fraser's family, they were reluctant to speak but said he had undergone an operation to the bullet yesterday afternoon.
Sources said the bullet had not penetrated any of Fraser's vital organs.
Comments

The body of 13-year-old Leonard Archibald, who was raped and then dumped in the Berbice River, was recovered this afternoon.

Lawrence Duprey (Trinidad Express) Former executive chairman of CL Financial Lawrence Duprey was ordered by a Florida judge in July to pay more than US$60 million to British American Insurance Company (BAICO) in damages in relation to the TT$1.9 billion Green Island project in Osceola County, Florida.

Bharrat Jagdeo The PPP/C is committed to constitutional reform, says Opposition Leader Bharrat Jagdeo.

Ray Lengend Ray Lengend who went on a fire-bombing spree of mosques throughout southeast Queens, this week pleaded guilty to the crimes against Muslims who the 45-year-old Guyanese man claimed in 2012 had been "trying to take over his life", according to the Times Ledger in Queens, New York.

BEIJING/SEOUL, (Reuters) – A small earthquake near North Korea's nuclear test site on Saturday was probably not manmade, the nuclear proliferation watchdog and a South Korean official said, easing fears Pyongyang had exploded another nuclear bomb just weeks after its last one.