Teixeira wants entirely new governance project crafted with US
Presidential Advisor on Governance Gail Teixeira says that the $300 million Leadership and Democracy (LEAD) Project should in its entirety be put on hold and government and USAID representatives discuss the crafting of another project.
The Donald Ramotar administration and the United States government are preparing for dialogue on the project and discussions are expected to centre on whether implementation of the project will be put on hold as talks continue.
On Friday, at a press conference, the President said that the project was still in dialogue preparation stage and echoed his government's position that the project be halted. "That is still more or less the same …we have not agreed with the project and we are saying the project should be halted," Ramotar said.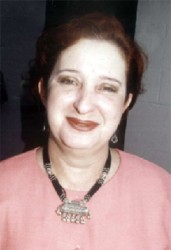 Diplomatic observers have said that before agreeing to the halt on implementation, which is being sought by the Ramotar administration, the United States may likely set a timeframe for the project's completion and also make provisions for a way forward should there be a deadlock on any changes proposed to the project's components.
Teixeira expressed alarm about the way the project's proposal was done and implementation components formulated. "This experience we have had with the LEAD project is a complete departure from what we have had …I have been looking at government's agreements with USAID 2004, 2008 to 2010, 2012 and so forth these are formal agreements signed between us," she said.
Making reference to the Caribbean Basin Security Initiative project, Teixeira explained that there were a lot of discussions with Guyana pertaining to the component of that project which would be executed here although it was a civil society project. "Government was consulted even though government would not be executing it," she pointed out.
"This is the tried and tested way that the Government of Guyana and the United States Embassy has worked and there have been many good projects," she asserted.
She informed that she and Cabinet Secretary Dr Roger Luncheon were fortunate to be on consultancy panels for other US-funded projects and the way the LEAD project was formulated strayed away from those norms. "It is a bilateral project …we would start out with a bilateral where each person would have one or two proposals and say this is what we want…What has happened with LEAD, the way we operate was not adhered to. Even the components were not clear in August of 2013; what we got was a document with four components which we had problems with," she said.
She said even when government met an International Republican Institute (IRI) representative in August and raised concerns it was told that the project was not final. IRI is executing the project.
"They assured us they were on a getting to know you thing and the project will not be implemented as yet. However we were later told that it was being implemented," she said.
"Why this departure? Why? We have never has this departure with our US friends in the past so I am profoundly bewildered," she stated.
Luncheon, who is also Head of the Presidential Secretariat, said last December that some areas of concern included the possibility that political parties could receive financial support through the project—an assertion denied by US Ambassador Brent Hardt.
Luncheon stressed that the laws of Guyana do not provide for state funding, much less foreign funding of political parties. "There is nothing like that in the law or in the practice. The Americans came in this project and invited what is a profoundly sensitive issue that has not been dealt with by this government or governments as far back as the day from independence—public support for political parties. That, indeed, represented a usurpation of our authority," he had stated.
Another area of concern, he said, is that the project supports activities for the formulation of policies that may lead to constitutional reform. "We don't amend the constitution that way. I don't call
in America to help us to amend the constitution. And activities that address constitutional important roles and activities obviously can become part and
parcel," he added.
Hardt had stressed that there has been misinformation in some sections of the media that the project will give financial aid to political parties. "We want to make clear that we do not provide funding to parties," he said. This was also stated in correspondence to Luncheon.
"The programme will not provide financial assistance to parties. In fact, existing legislation prohibits the use of US government direct funding of political parties. It will provide capacity building support in an open and transparent manner to all parties in the context of their parliamentary engagement," the correspondence stated.
Both A Partnership for National Unity and the Alliance For Change have gone on record as saying that while they were consulted on the project, they were never given or offered any finances nor did they expect any.