Three persons are in custody following the Saturday morning robbery and killing of security guard Chandrabhan Persaud who was found bound and gagged at the Lucky Dollar Rose Hall branch.
Police sources told Stabroek News that the trio was taken into custody on Saturday night. Persaud, 55, of Whim, Corentyne was the only guard on duty during the time of the robbery. It is still unclear as to what was stolen from the furniture giant.
Persaud's "hands and feet were tied and his mouth gagged," police had said. In the wee hours of Saturday morning bandits broke into the Lucky Dollar store. The men gained entry into the building by ripping away a mesh and breaking a few ventilation blocks. During the robbery, the security alarm went off and police were altered. It was then Persaud's lifeless body was found bound and gagged at the back of the building. Persaud was employed with RK's security firm.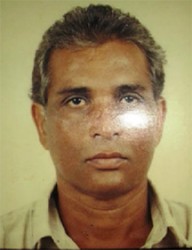 "When I arrived at the scene, police had just arrived and we rushed to the back of the building. We find he tied up…his hands and foot were tied with a piece of canvas rope and some old cloth. In his mouth had a piece of black cloth…," said Gopaul Kissoon an acting supervisor.
Citizens who gathered at the scene on Saturday morning criticized the establishment for having only one guard on duty. One onlooker was overheard saying "look how this place big and only one man them gon put to watch this place."
Persaud's wife Satyawattee Persaud stated that the last time she had spoken to her husband was just before he had left home for work.
The body is at the Ramoo's funeral parlour awaiting a post-mortem examination. Persaud leaves to mourn his wife and other family members.
Comments

Grace Mugabe   HARARE,  (Reuters) – Zimbabwe's first lady Grace Mugabe returned from South Africa early today, state media reported, after a 20-year-old model accused her of assault in an upmarket Johannesburg hotel room.

Michael Bhopaul, 16, doesn't know if he is this year's best performer at    the Caribbean Secondary Examination Certificate (CSEC) Examinations, but with preliminary results showing that he has obtained passes in 25 subjects, he will be hard to top.

Inmates at the Lusignan Prison turned over 33 improvised weapons yesterday morning to prison authorities, who say that they also apologised to the prison staff for the unrest at the facility on Friday night.

Well known Berbice attorney Chandra Sohan was arrested on Friday after he allegedly struck a pedestrian in a hit and run accident along the Williamsburg Public Road.

For a little more than an hour yesterday, the streets outside the Mackenzie Market rang with the voices of dozens of Linden residents who turned out to support a march against homosexuality.