Convinced that police officers attached to the Number 51 Village Police Station were responsible for a robbery on Sunday evening, residents of Number 48 Village, Corentyne demanded that they be transferred.
Loud and outspoken residents made the call during a meeting with Divisional Commander Brian Joseph and Region Six Chairman David Armogan and other persons during a meeting at the Number 48 Primary School.
The meeting was arranged following protest actions that were sparked after four armed,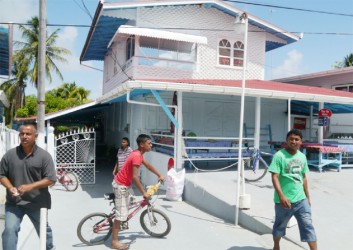 masked bandits invaded the home and shop belonging to Vimlawatie 'Dato' Ramdeen and her husband, Lilman Ramdeen.
Commissioner of Police Leroy Brumell is expected to meet residents today at the same venue and is likely to make a decision with regard to transferring the ranks.
Armogan said they tried to "let them understand that they have to work with the police" and that while there may be rogue police officers, there are also good ones who respect law and order.
Home Affairs Minister Clement Rohee yesterday disclosed that he had recently asked Brumell for a "total change of guard" at the Number 51 station prior to the latest attacks.
The bandits beat the Ramdeens, fired several shots to apparently scare persons away and carted off about $600,000 in cash, jewellery and cell phone cards. Residents said the same car – an AT 192 Toyota Carina, PJJ 6872 with "siren lights" at the top – that the police arrived in later to investigate the robbery was used to transport the bandits. According to them, during the robbery the car was driving slowly on the road without lights.
Upon hearing the gunfire, neighbours tried to contact the police but the phone rang out.
Residents found it strange that about an hour later, the same car that had been used to transport the bandits returned. The officers, dressed in uniforms stopped at the house and inquired whether a robbery was there.
Agitated, residents who had gathered at the scene prevented the police from moving the car and also blocked the road, disrupting traffic. Many persons, including those returning home from a horserace, were stuck.

At the meeting yesterday, a number of businesspersons complained that they had applied for firearm licences for some time and have not received any as yet.  They were asked to raise the issue with the commissioner in an effort to have the applications "fast-tracked in light of what has been happening."
They also emphasised that they "voted for the government in power and they have an obligation to protect them."
The residents are fearful for their lives and said everyone, especially the children, are deeply traumatised "by the gunshots that were fired."
According to teachers at the school, the students "would get jumpy at the least noise" and said they may even need counselling.
There has been an upsurge in armed robberies in Corentyne villages since December and residents have lamented that the police have done nothing to protect them.
They emphasised that several calls to the nearby Number 51 Station usually go unanswered. When they finally get on to the station, they said they would be told that no police or vehicle was available.
Attacks
Vimlawatie recalled that she was closing up the shop around 6.30 pm when four men appeared before her, each with a long gun. They started to use expletives and two jumped over the counter. One held a gun at her and the other went to her husband, who was in the kitchen, and demanded valuables. They also cut the phone line.
She said they started firing shots rapidly close to her feet and pushed her down to the ground. She wanted to "play dead" but decided against it for fear that the men would "shoot me…."
She then chose to "stand up and face them." She begged them to spare their lives and agreed to give them whatever they wanted and handed over the articles.
In the meantime, the other bandit had grabbed her husband and demanded more valuables. He said they did not have more and the bandit whipped out a gun from his waist and pressed it on him.
The other bandit told Vimlawatie to lie on the ground and close her eyes and he then kicked her to the head and back. By the time she opened her eyes, they were gone.
She said she used another telephone line to call relatives.
A teenage boy who was at the shop was placed to lie on the ground. At one time he tried to pick up a spent shell but a bandit kicked him.
Meanwhile, Mark Fernandes, 38, of Number 47 Village was beaten and robbed last Thursday evening. He said he was in the yard when four bandits appeared from the side of the kitchen and he started to scream.
One of the bandits grabbed his hair and demanded money and jewellery and ordered him to let his reputed wife, Dhanrajie Seenauth, throw them from upstairs. They threw about $260,000 to them.
A white wagon belonging to a police officer was also seen driving slowly at the time. And in another robbery at Number 50 Village, bandits robbed a couple and kidnapped their son and took him to the backdam. A good distance away, they told him to run back out and not to look back. The same wagon belonging to the police passed him along the way.
Stabroek News recently reported that the spike in armed robberies in villages along the Corentyne Coast had resulted in some villagers forming themselves into vigilante groups to patrol their communities at night.
Comments
British High Commissioner to Guyana Greg  Quinn  yesterday said that it was hoped that more would have been done to push the constitutional reform process forward.

A West Coast Berbice man died after he reportedly set his one-storey house ablaze sometime around 11.20 am yesterday.

A Yarrowkabra miner was yesterday charged with the murder of a co-worker, whom he allegedly beat to death during an alcohol-fuelled clash last Saturday at a dredge site in the Potaro Backdam.
A court action was yesterday filed challenging a directive issued in the name of President David Granger to the Police Service Commission (PSC) for a hold to be placed on planned promotions this year.
UK security expert Lt Col (rtd) Russell Combe, who is working closely with the Guyana government to resuscitate the Security Sector Reform Action Plan (SSRAP), will be broadening his mandate to assess the country's prison situation.