Government's failure over several years to accede to successive requests from the Guyana Telephone and Telegraph Company (GT&T) for "appropriate spectrum allocation" to hasten the creation of third and fourth generation (3G/4G) ICT technology continues to have a significant negative effect on the development of the sector locally, GT&T Chief Executive Officer RK Sharma said.
Speaking at the company's Annual Media Dinner on Saturday evening, in what, arguably, was his most significant public presentation since assuming office last year, Sharma alluded to two separate presentations – in 2010 and 2013 – for increased bandwidth to press ahead with the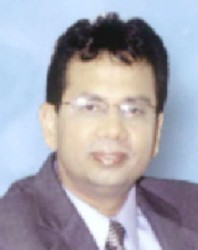 introduction of upgraded communication technology.
According to Sharma, in 2010, GT&T "formally submitted a request to the Government of Guyana for spectrum allocation to facilitate a phased 3G/4G roll out," which submission "included field test data, economic analysis and a macro project plan inclusive of geographic phases for the planned rollout."
Sharma said that another request for spectrum allocation by GT&T and ATN in September 2013 had again seemingly failed to find favour with the government. "Regrett-ably, we are now in 2014, technology has changed and the rapid advances in 3G/4G architecture in the global industry are everywhere with live regional networks deployed, handsets availability by major suppliers has increased with pricing trending downwards, but GT&T has not been afforded the appropriate spectrum allocation to make 3G/4G a reality for all Guyana," Sharma added.
Whilst last Saturday evening's event, held at the Grand Coastal Hotel was billed as an event to entertain journalists and other media workers, Sharma's presentation evidently sought to take advantage of the potential for major media coverage of some of the company's key policy issues and concerns.  Clearly not inclined to pull punches over the company's differences with government over the spectrum allocation issue Sharma declared that the net effect of government's failure to accede to its bandwidth applications has been "sector stagnation (and) deferred capital outlays both of which have a net negative effect on the nation as a whole."
In the past GT&T has made no secret of what is believes is the intrusive role which government plays in the local ICT sector.
On Saturday evening Sharma declared that GT&T had "noted with interest" the stated plans of the government's e-governance department which he said has a major long term evolution (LTE) component; "LTE being used interchangeably with 4G." Sharma declared that based on global market and industry dynamics and actual success stories… ICT sector development must be spearheaded by private capital… hence the criticality of spectral policies which are transparent, market-based, and are designed to support national development.
Sharma, meanwhile, has maintained GT&T's publicly stated position of the much talked-about liberalization of the local telecommunications sector. He alluded to the company's support for "government's efforts to liberalize and strengthen the telecommunications sector… providing that the new legislation and regulations reflect a level playing field, the application of international best practices and a minimum of discretionary decision making."
Additionally, Sharma told media operatives that liberalization would have to be seen "within the context of the respect for our contractual rights as embodied in our existing agreement with the Government of Guyana."
Sharma said GT&T had noted that the second draft of the bill had been sent to a Special Select Committee and the company looked forward "to appearing before that committee to contribute to the refinement and improvement of the final act and regulations."
Comments

Following an outreach in Lethem today, President David Granger (centre at left side of table) held a  high-level security meeting with a number of officials including Guyana Defence Force Chief of Staff, Brigadier Patrick West (third from right on right side of table) and British security sector reform advisor Russell Combe (second from right on right side of table) among others.

The Guyana Power and Light (GPL) says that just after midday today, three armed bandits stormed its Parika Customer Service Centre; robbing the location of all revenues received up until that time, holding the  staff and customers at gun point and disarming a security guard of a gun.

The Management of Cheddi Jagan International Airport Corporation (CJIAC) is currently undertaking a massive expansion project  and a Temporary Arrivals Terminal Building was recently constructed.

Tourism Minister Shamfa Cudjoe announced the decision to close the company. (Trinidad Express) The Tourism Development Company (TDC) has ceased operations.

Cevons clearing city garbage WPA STATEMENT ON THE UNRESOLVED ISSUE OF GARBAGE COLLECTION IN THE GEORGETOWN MUNICIPALITY The WPA is deeply concerned that the Georgetown City Council's inability to honour its financial obligations to Cevons Waste Management and Puran Brothers has the potential of endangering the health and lives of citizens.