As police work with no leads, the mother of murdered local designer Trevor Rose said yesterday that she will not be pursuing the case as nothing can be done to bring her child back.
She, however, urged the police to do all they can to find whoever was responsible for riddling her son with bullets as he sat in a car on Eccles Access Road, East Bank Demerara early Sunday morning.
Contacted last evening for an update Police Com-missioner Leroy Brumell told Stabroek News that investigators have no clues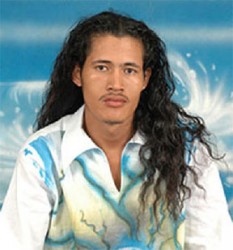 as to the motive for the killing, but they are "working on it". He said investigators have revisited the scene with a view to gathering clues that could assist with their investigations.
Senior police officials said that at the moment they do not want to speculate on what might have happened or what might have led to it.
Up to press time last evening Troy Nieuenkerk, the driver of the car Rose was in,  and female passenger 29-year-old Latoya Towler were still patients at the Georgetown Public Hospital. Nieuenkerk was shot in the shoulder while Towler, the mother of one of Rose's children, sustained a gunshot wound to the buttocks. They both declined to speak with Stabroek News when approached yesterday.
Police have so far been able to take a statement from Towler.
Based on reports, Towler and Rose were spotted at two locations in the city and it is believed that at the time that he was killed he was taking the woman to her Eccles home.
Meanwhile when Stabroek News visited the East Street address that Rose shared with his mother, the grief was evident. One of his daughters had to be consoled after she erupted into tears.
Lily Brown known to many as Lily Rose told this newspaper that she had heard nothing more about the incident and no one from the police force had visited her to tell her anything. "I am not going to follow it up," she said as she fought to control her emotions. Brown said that regardless of what she does, "it will not bring him back".
According to the woman, her son is already dead and even if the police managed to get the killer and pass him through the justice system that cannot bring Rose back. "Why should I pursue something that would only bring me more grief? God knows the person who shot my son and killed him and for me that is enough. In due time God will deal with that person," she said.
Asked about the two persons who were with her son at the time, Brown said that she hasn't heard anything from them and has no plans to meet them.
The woman noted that since the killing there has been a lot of "rumours and speculation". She said that is not what she wants, while noting that it was speculated that it was a hit or that one of the persons with him was involved. She said, "I don't want to judge anybody…"
Brown urged the police to not only work on her son's case but on all the other crimes that have been occurring. "Too many young men have been losing their lives. Young entrepreneurs like Trevor, my son. They are being gunned down like life has no meaning at all," she said.
"What was the reason why they killed my son? He wasn't involved in crime. He wasn't doing anything illegal.
Everybody knows what Trevor's business is about. Trevor is about art, entertainment. It is about basketball. He is an open book. He had nothing to hide," Brown said adding that his work and his children were his life.
She said that as far as she knew, Rose had no problems and no fears. Shaking her head, she said that she only got to spend five days with her son. She explained that she was in the United States for three months, when Rose went on a trip to the Cayman Islands. According to Brown, Rose made the trip on the invitation of the Cayman Islands Tourism Authority which was interested in his costumes. She said that he returned to Guyana on Tuesday last.
"I had five days with him and somehow I was anxious to get home. Like I was counting the days…," she said. She added that she kept saying a prayer for him.
When he returned home, she said, he showed her his portfolio with all of his designs that he had taken with him. He was excited at the prospect of being able to tap into the Cayman Islands market.
She said she now sits and reflects on when Rose was a little boy and this gives her comfort. With a smile she said that he was clever. She said too that having persons in her company was soothing.
Police in a press release said that the incident occurred at around 5 am. Nieunkirk was driving his car when another vehicle drove up alongside and the driver accosted him about how he was driving. "An argument ensued during which the driver of the other vehicle came out with a firearm and discharged a number of rounds at Nieunkirk and the other persons in his vehicle after which the perpetrator escaped," the police said.
The police further stated that Rose was hit about his body and was pronounced dead on arrival at the GPH. The police said that a 9mm pistol and 19 matching rounds were recovered at the scene.
Stabroek News was told that Rose sustained as many as six gunshots. A post-mortem examination is to be performed tomorrow.
Comments

Alliance for Change (AFC) leader Raphael Trotman yesterday said the diversion of billions to the security sector after the destruction of the Camp Street prison was partly responsible for the government not budgeting the full sum for severance payments to laid off sugar workers.

The police were up to yesterday afternoon still working to ascertain the motive behind the murders of Ambrose Baharally and Martin Godette, the Pomeroon farmers who were shot dead on Sunday and a potential witness was taken into custody to assist with the investigation.

Former President Donald Ramotar has accused the current government of accepting loans from India that he initiated except those pertaining to the rehabilitation of the sugar industry but State Minister Joseph Harmon says he is unaware of the claim and has urged that the former head of state prove it.

Omadat Persaud, who was on trial for raping a five-year-old girl in 2015, was yesterday afternoon sentenced to 45 years in jail after a jury unanimously convicted him of the crime.

The mother of Marlon Fredericks, the mentally-challenged vendor who was fatally shot by a member of the city constabulary on Sunday, yesterday called for justice for her son, while saying that an autopsy found that he died of a gunshot wound to his chest.