PPP General Secretary Clement Rohee revealed yesterday that Minister of Local Government Ganga Persaud's resignation was influenced by the Office of the President due to undisclosed allegations.
Rohee stated that the PPP supported the President's decision to "sever" Ganga Persaud's relationship at the government level, while acknowledging that Persaud was still a member of the PPP's Central Committee.
Rohee stated that "if there was an act of indiscretion, if there was an act of dishonesty, whatever the act may have been that would have led to the Office of the President taking that decision, the party goes along with it." His statements contrast that of Persaud's letter last Thursday which cited a voluntary resignation for personal reasons.
The general secretary continued that whatever position was taken by the Office of the President was done with the party's consultations. "I have absolutely no difficulties with the decision of the President to sever the comrade's relationship with the Cabinet." He stated that the party was "concerned in respect of all government ministers committing acts of indiscretion,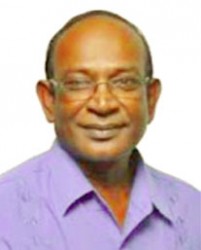 committing acts of impropriety, committing acts of dishonesty, committing acts of corruption while carrying out their ministerial responsibilities."
Rohee was responding to questions posed by the media whether Persaud was involved in any indiscretions to which he did dodge repeatedly and was unable to answer. Rohee shut down questions on Persaud's resignation at one point during the press conference held yesterday at Freedom House. He stated that the questions being posed were extremely sensitive and that if further questions were to be asked they would have to be asked in a precise way to dictate his response. Rohee refused to comment on Persaud's personal life referring questions to the Office of the President.
Rohee did state that the PPP's relationship with Persaud would continue and that once the elections board was constituted by the party, he would most likely be a member due to his experience as minister. Persaud tendered his resignation last Thursday and was absent from Parliament, much to the surprise of the general public.
His sudden resignation raised many questioning as to the reason considering that the four local government bills had finally been signed into law and the likelihood of local government elections seemingly closer than ever.
Persaud was also very influential in the setting up of various Interim Management Committees replacing established and elected Neighbourhood Democratic Councils much to the chagrin of the Regional Democratic Councils across Guyana.
Persaud will remain in his ministerial position until January 31.
Comments

Jerry Lewis   LOS ANGELES,  (Reuters) – Jerry Lewis, the high prince of low-brow comedy on stage and in movies as well as a fund-raising powerhouse with his annual Labor Day telethon, died today of "natural causes" at the age of 91, his family said.

Beharry Automotive Limited (BAL) , the authorised distributor for Toyota parts and lubricants, says that an abundance  of imitation Toyota parts and lubricants have entered the market with the Toyota logo and trademark.

Grace Mugabe   HARARE,  (Reuters) – Zimbabwe's first lady Grace Mugabe returned from South Africa early today, state media reported, after a 20-year-old model accused her of assault in an upmarket Johannesburg hotel room.

Michael Bhopaul, 16, doesn't know if he is this year's best performer at    the Caribbean Secondary Examination Certificate (CSEC) Examinations, but with preliminary results showing that he has obtained passes in 25 subjects, he will be hard to top.

Inmates at the Lusignan Prison turned over 33 improvised weapons yesterday morning to prison authorities, who say that they also apologised to the prison staff for the unrest at the facility on Friday night.