The fallout from blacklisting because of non-compliance with international requirements  can be "quite significant" for countries like Guyana, according to a UK expert in this area John McKendrick QC.
He told Stabroek News in an exclusive interview last week that while the Caribbean Financial Action Task Force (CFATF) may see the passage of long-stalled anti money laundering legislation here as a step in the right direction it would also likely want assurances that the relevant institutions will function and be properly resourced.
McKendrick, a barrister-at-law, who has done extensive work in the areas of public procurement, economic growth and the rule of law, and financial crimes is on a five-country visit in the Region as he seeks to observe common themes of how the rule of law and stronger institutions can assist developing countries to pick up faster rates of economic growth and development.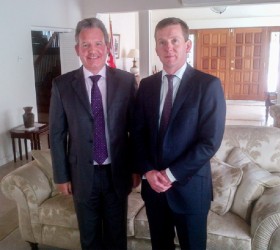 McKendrick has already visited El Salvador, Panama and Trinidad and Tobago and was expected to be in Jamaica sometime this week after visiting Guyana, at the behest of British High Commissioner Andrew Ayre. By the time he would have left Guyana, McKendrick would have spoken to Minister of Legal Affairs and Finance Anil Nandlall and Ashni Singh respectively, A Partnership for National Unity (APNU) finance spokesperson Carl Greenidge, representatives of the Guyana Association of Bankers and members of the private sector.
Anti-Money Laundering
Guyana has been recently blacklisted by the Caribbean Financial Action Task Force (CFATF) and though there have not yet been any measurable implications, Nandlall and Singh both say that negative implications are imminent unless the National Assembly quickly passes the Anti-Money Laundering/ Countering the Financing of Terrorism (Amendment) Bill currently being considered by a select committee.
McKendrick says that the fallout from being blacklisted can be quite significant. "Some (companies) may leave," he shared, adding that the cost to conduct common, every-day transactions will also go up. The exodus of companies which offer financial services, including banking services, money transfer services, and insurances services, would be problematic for Guyana since only a limited number of such service providers operate here.
McKendrick is of the opinion that money laundering poses two main dangers for countries, particularly those with weak preventative institutions.
"The first is, if there is a large amount of money laundering taking place then it involves and attracts criminals, and criminals do not limit their criminal activities to only financial crime…you are likely to attract some very unpleasant additional crimes (such as) extortion, or violence, or drug smuggling or people smuggling because those are the sort of activities that go hand in hand," McKendrick explained.
So, in actuality, money laundering, aside from being a crime itself, is an end result of crime since "criminals needs to launder their money to be able to bring it back into clean financial systems so they can use it as they want to."
The second problem stemming from being noted as a jurisdiction where money laundering is prominent is that costs to execute financial transactions increase since international financial firms have to incur higher costs to process transactions with such territories.
"If it's a known money laundering jurisdiction there must be increased due diligence, they must have increased paper trails (and) transactions procedures. So every time somebody from New York wishes to send money to Guyana the percentage commission will go up.
The teller of a bank in New York will pick up a manual, and it will tell them if they are transferring money to a place that is blacklisted, or a known money laundering destination, then additional due diligence may have to take place to ensure that the transaction taking place is not going to someone who may well be suspected of money laundering. The more the bank employee has to spend time processing that transaction and…carrying out risk assessments the more the cost of the transaction," McKendrick said.
In the end, as stated by McKendrick, Guyanese will have to spend more to access the same day- to-day financial services than their Dominican or Trinidadian neighbours. Also, the high cost incurred by businesses to function in Guyana may prompt them to leave.
Being blacklisted can also have a
negative impact on Foreign Direct Investment (FDI) as potential investors may find it difficult to explain to their compliance and due diligence committees why they should put money in a country that is blacklisted. This is a result of the aforementioned fact that being blacklisted drives up the cost to business and high operation costs are a disincentive to foreign investors.
"There is a risk that they will take their business elsewhere. People don't choose to do business in countries that have a high risk of money laundering and other financial crime, and if they do…they are probably going to do it at a higher cost, which means that the Guyanese consumer is going to pay more to do business."
Ministers Nandlall and Singh have been adamant that passing the AML/CFT (Amendment) Bill is all that is needed at this point for CFATF to give Guyana a passing grade. The government, carrying this argument, has been trying to get the opposition parties to vote to pass the legislation since it was tabled last year. They have not been successful in this bid – the country has missed two CFATF deadlines and the bill was defeated once.
Asked if passing the AML/CFT (Amendment) Bill will be enough for the CFATF to reverse Guyana's current standing, McKendrick said "my feeling is that they would look at the passing of legislation as progress…correct direction of travel, but they will have to determine whether the institutions that were tasked to give effect to the recommendations are resourced, experienced and properly supported by the executive, and have the government's backing to do that they have to do."
This is in line with what the opposition parties have been arguing for. The Alliance for Change (AFC) and APNU have been insisting that government take significant steps towards improving the Financial Intelligence Unit (FIU), the agency tasked with tracking and investigating signs of money laundering.
The Financial Intelligence Unit
Before early 2011, the FIU functioned with a staff complement of two – its Director Paul Geer and an administrative assistant – and its budget was relatively insufficient considering the amount of work required.
Although the FIU's staff and budget have since increased, amidst mounting international and domestic scrutiny and criticism, the opposition parties noted that the entity does not provide much information and it was only recently that two annual reports were submitted to Parliament.
Furthermore, the work of the body has not led to a single arrest or prosecution of money launderers. Commenting on this track record, McKendrick stated that "if there are institutions which have a five to ten year (and over) history and have not managed to successfully prosecute financial crime then serious questions need to be asked about why not." This said, he conceded that proving financial crime is very difficult, and that proving it beyond reasonable doubt to a jury is even more difficult.
In Guyana, APNU and the AFC have argued that enforcement of the laws, which has not been achieved in this case, is equally important as passing legislation, and McKinnon agrees. "If you simply pass laws but don't give effect to them you don't have laws, let this be very clear. Laws in the statute that are not enforced are not laws, they are guides to etiquette…they become something people can look at and take account of but choose whether they will give effect to it or not he said."
UK High Commissioner Ayre, who, along with other western envoys, has been urging the two sides to find common ground and move ahead with passing the legislation, was present during the interview.
He told Stabroek News that while the British High Commission will continue to give support on this matter the government and opposition parties are the ones who must determine how to get the job done.
This said, he lamented that the process has been too slow and needs to be speeded up.
He said that improved money laundering legislation and the enforcement of such legislation in Guyana has benefits for the U.K. since business transactions will become more straightforward and the country will become a much better investment destination. "It's a win-win situation," he remarked.
In addition to adequate staffing and budget, McKendrick said that the body tasked with enforcing money laundering and other financial crimes laws needs to be free from political control and interference and respected by members of civil society and private enterprise.
Public Procurement
McKendrick's opinions on public procurement were also solicited considering the ongoing skirmishing between government and the opposition, the AFC in particular, on this matter. According to current legislation, once the Public Procurement Commission (PPC) comes into being Cabinet will lose its no-objection powers in the tendering process.
The government, though it voted to pass the legislation in a majority government House, is now against these provisions and has proposed amendments which would see them keeping their no- objection powers when the PPC comes into being.
The opposition parties though, have said that they will not support the amendment and so the process is stalled. Before the process towards setting up the Commission goes any further government must first submit its nominees for the Commission to the Public Accounts Committee (PAC), which it refuses to do until it is allowed to keep its no-objection powers.
McKendrick though, does not see the need to have government be that deeply involved in the procurement process.
"Once the political decision has been made to build the road and where, it's hard to see why politicians remain involved in the public procurement process," he said.
He posited that politicians are there to make political decisions, and said that if you have non-ministerial procurement decisions then you are more likely to have those decisions being made against objective and relevant criteria such as value for money, quality of service, track record of the service provider, the extent to which that service provider has a solid record against corruption and bribery, and the extent to which environment, human rights and labour rights have been taken into consideration.
"These are parts of the checklist that should be gone through before a contract is tendered and I am not sure that it is something for government ministers to do," McKendrick offered.
Reflecting on the procurement process in the U.K., he pointed out that except the largest, more political procurement exercises, "British Cabinet ministers have very limited involvement in the procurement process."
He posited that such responsibilities are better left to professional civil servants. Several members of Guyana's government, including President Donald Ramotar have argued that if government is to be held accountable for spending public funds it is only fair to allow it the power of no objection.
McKendrick argues that this accountability is tested whenever elections are held. He said that in a democracy, a government is tasked with various responsibilities, including the expenditure of finances, and that they are held accountable by their citizens every time elections are held.
He maintains the importance of dividing the function of government, which is to provide adequate services to its people, from the political decision making, which ministers should be involved in.
The Rule of Law
The rule of law, which dictates that all laws must be fair, and applied equally to all members of society, is linked directly to economic development, McKendrick argues.
Systems devoid of adherence to the rule of allow deter both domestic and international investment as the jurisdiction becomes more prone to corruption, and therefore higher operation cost and other risks.
"Unless people know that when they invest money in a country, when they seek to raise capital from a bank or when they seek to raise capital from issuing shares, or a bond…unless they know that if there is a problem the state will properly regulate the credit market; will properly regulate insolvency; will properly regulate the enforcement of contractual obligation…they are not going to invest, and if they do decide to invest despite that they will be doing so in a more costly manner which is disadvantageous to the population of the country".
This means that when roads and bridges are built, the prices for these structures will be higher than they would have been if the rule of law was adhered to. Ultimately, where there is reduced investment, or investment at a higher cost, it is the taxpayer who will pay the price, figuratively and/or literally.
He holds the view that people will therefore lead less economically fulfilled lives and will continue to be gripped by poverty which government will be unable to wrest them from unless new credence is given to the rule of law.
One way to guarantee economic growth though, he suggested, is investing heavily in capacity building. He said that the government needs to ensure that its people are in possession of the necessary education and training that will help to facilitate the level of growth that is desired.
Noting the ways that the rule of law, money laundering and the procurement process affect the economic development of states, he says that governments, especially of developing territories, need to adopt best practices with urgency.
Comments

Following an outreach in Lethem today, President David Granger (centre at left side of table) held a  high-level security meeting with a number of officials including Guyana Defence Force Chief of Staff, Brigadier Patrick West (third from right on right side of table) and British security sector reform advisor Russell Combe (second from right on right side of table) among others.

The Guyana Power and Light (GPL) says that just after midday today, three armed bandits stormed its Parika Customer Service Centre; robbing the location of all revenues received up until that time, holding the  staff and customers at gun point and disarming a security guard of a gun.

The Management of Cheddi Jagan International Airport Corporation (CJIAC) is currently undertaking a massive expansion project  and a Temporary Arrivals Terminal Building was recently constructed.

Tourism Minister Shamfa Cudjoe announced the decision to close the company. (Trinidad Express) The Tourism Development Company (TDC) has ceased operations.

Cevons clearing city garbage WPA STATEMENT ON THE UNRESOLVED ISSUE OF GARBAGE COLLECTION IN THE GEORGETOWN MUNICIPALITY The WPA is deeply concerned that the Georgetown City Council's inability to honour its financial obligations to Cevons Waste Management and Puran Brothers has the potential of endangering the health and lives of citizens.