The Pomeroon Women's Agro-Processors Association of Region 2, secured the second place at the recently concluded Regional Entrepreneurship Awards Scheme sponsored by global consulting giant Accenture (UK). The awards presentation which took place in Lethem on January 23, 2014, also saw Waini Naturals of Region 1, winning the fourth spot.
A release from CUSO International LAC – Guyana said that at the award presentation Ebelin Patricia Solorzano from Peru won the top prize of US$2,500 while Mishky Cacoa also of Peru (represented by Ayli Cenepo Quinteros) secured the third place.  Rosamund Benn represented Pomeroon Women's and Alicia (Annie) Gouveia represented Waini Naturals. The awards scheme was designed to reward outstanding entrepreneurship initiatives which have contributed to poverty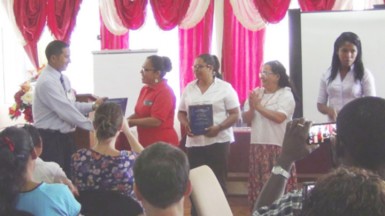 alleviation and improved livelihoods at the community level and is part of the Making Markets Work programme which is currently being implemented in Guyana by CUSO-VSO.
The Guyana project targets six women's agro-processing groups belonging to the Women's Agro-processing Development Network (WADNetwork), with the aim of promoting market-led approaches that increase the incomes of poor and marginalised groups and people.
The Pomeroon Women's Agro-Processors Association along with Waini Naturals were selected as the two finalists from Guyana, the other two finalists were from Peru. The entrepreneurs were firstly assessed at the Country level where there were seven local competitors, including Blue Flame Women's Group (Region 1), Henvil Farms (Region 2), and Aranaputa Proces-sors Friendly Society, Wowetta Women's Group, Helping Hands  Producers Cooperative Society ( all of Region 9). The top three Guyana applicants were then placed in a regional pool along with applicants from Peru, Bolivia and Nicaragua. All the finalists were also presented with plaques, compliments of the Guyana Bank for Trade and Industry. GBTI's Lethem manager André Yhap, in making the presentation to the four finalists highlighted his bank's commitment to working with community-based enterprises at the grass root levels to ensure that they are given a fair chance at survival and success.
According to the release, the Pomeroon Women's Agro-Processors Association is noted for its products which are branded "Pomeroon Delight" and include the award winning Virgin Coconut Oil, Hot Pepper Sauce, Green and Brown Seasoning, Mango Achar and Fruit Mix.
Waini Naturals makes products from crabwood oil including soaps and creams. They have an arrangement with Sterling Products to assist them with distribution of their products to mainstream supermarkets in Guyana.
Comments

MELBOURNE,  (Reuters) – Rafa Nadal's Australian Open quarter-final curse struck again on Tuesday, an injury forcing the top seed to retire in the fifth set against Croatia's Marin Cilic.

Several hundred more sugar workers are expected to be laid off from the Skeldon, Rose Hall, and East Demerara estates by next month and the Guyana Agricultural and General Workers Union (GAWU) yesterday urged that the decision be reviewed.

The commencement order establishing the Telecommunications Agency was signed last Friday, in anticipation of the liberalisation of the telecoms sector, Minister of Public Tele-communications Cathy Hughes announced yesterday.

Nickela Craig-Singh, the woman who was arrested last Friday after the Customs Anti-Narcotic Unit (CANU) found over 10 pounds of cocaine in the ceiling of her Soesdyke home, was yesterday sentenced to four years in prison and fined over $14 million after pleading guilty to possession of the drug.

Almost two weeks after he made a Facebook post in which he questioned whether the Indian High Commission was interfering in Guyana's internal affairs, Director of Public Information Imran Khan yesterday said that he regretted the "furore" his post created and admitted that it should have benefitted from "greater elegance or not have been made".