Murder accused Parsram Lalchand called 'Desmond', who was on retrial for the murder of Niranjan (only name) in 2008 was yesterday found not guilty.
Lalchand was before Justice Franklyn Holder and a 12-member jury.
The accused was charged along with four others, Babzie Singh called 'Solex' and his three sons, Satesh Singh, Vishal Singh, and Vishnu Singh with the murder of Niranjan on July 29, 2008 following a row over a stolen bicycle. Satesh was found not guilty in March last year while the jury was split on Lalchand's guilt and he was remanded to prison to await a retrial.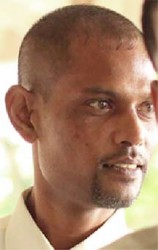 However, Vishal, Vishnu and Babzie Singh were sentenced to 15 years in prison after they pleaded guilty to manslaughter, while another co-accused, Akash Singh, was freed after the prosecution withdrew the murder charge against him.
The defence had presented one witness, Babzie Singh, who had told the court that he and his three sons were the ones who had beaten Niranjan. He added that Lalchand was present after an argument ensued over a bicycle that was found at his home, but when the fight started, Lalchand was at home with his wife.
The accused was represented by attorney Hukumchand, while prosecutors Dhanika Singh and Mercedes Thompson appeared for the state.
Comments

SYDNEY,  (Reuters) – England's Jos Buttler struck a belligerent unbeaten 100 to set up a 16-run win over Australia in the third one-day international on Sunday, as the touring side took an unassailable 3-0 lead in the five-match series.

The Public Procurement Commission (PPC) hopes that by the end of this year debarment legislation would be in place as it will soon begin meeting with stakeholders on a draft.

A bill to provide a legal framework for the protection of witnesses was passed without amendment by the National Assembly on Friday evening despite arguments by the parliamentary opposition that it failed to take into account modern challenges.

The ownership of over $7 million in local and foreign currencies and several vehicles that were all seized during a raid by the Customs Anti-Narcotics Unit (CANU) at Soesdyke, East Bank Demerara on Friday has raised questions and a separate probe is expected to be launched.

Weeks after its major oil find at the offshore Ranger-1 well in the Stabroek Block, ExxonMobil's local subsidiary is preparing to begin drilling at the Pacora-1 well site in the same area.