Chief Works Officer Geoffrey Vaughn yesterday warned that the local construction sector will continue to suffer delays and poor quality work unless the lack of qualified professionals, driven by continued student failures in Mathematics and Science is addressed.
"There is an ominous shortfall of professionals [and] sub professionals," Vaughn said yesterday at a University of Guyana and the Public Works Ministry engineering conference, at the Guyana International Conference Centre, where he noted that quality is closely related to training and development.
Calling human resources the "most important asset" for meeting the demand of the technological revolution, Vaughn argued that there is a deficit and pointed to the results being yielded by the education system.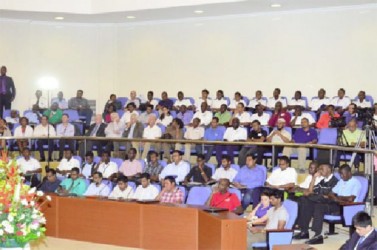 Many students are not passing the key subjects, he said, citing an overview of the last two years. "This is where the core of our construction challenges begins… We have to try to fix it. For us to move on we have to deal with the core. If Science and Math are not up to scratch, our construction sector will continue to suffer," he added.
Further, he informed that statistics from the University of Guyana showed that there had only been 2,900 students enrolled in the Technology Faculty from an overall total of 31,090 enrolments over a five-year period.
"How do you supply our construction sector with engineers, with clerks of works, with technicians, which supervisors, when we have such a meagre figure?" he asked. "For our construction sector to improve we have to build our training capacity; we have to strengthen the students coming from the secondary level; we have to give them the tools for them to understand Math and Science-based subjects. This is the only way that they will be able to deal with the challenges that we are faced with in the sector," Vaughn stressed.
Vaughn said that one reason why locals are not given internationally-funded contracts was because they don't have the capacity to execute specific projects, since they lack technical and managerial capabilities. "Assessing the contracts awarded for the last five years, projects where loans or grants were received via funding agencies, such as the IDB, EU, World Bank, show that only a few contractors have the capacity to execute the projects funded by these agencies," he noted.
"There has been a shift, in the construction sector, where we are finding lots of persons who are not qualified are actually managing projects and this is the reason for the time overrun, cost overrun and defective bills of quantities. We have to join heads, join hands to move forward," he further added.
President Donald Ramotar, in his remarks at the conference, stated that Guyana has to "train more and more of our human capital to cope with the new world." He said that he believes that lack of planning and preparatory work was the cause for construction maladies, including excessive variations in projects and delays.  "Too often I hear about when they throw sand it is disappearing or bridges sinking away quickly… wasn't there any soil test? Wasn't there enough planning and preparatory work? I don't think enough supervision is done," he stated. Recently a major Guyana Power and Light project on the West Demerara suffered from the sand-disappearing syndrome as a swampy area was selected for construction.
Ramotar lamented that he was "tired of hearing of excuses" from contractors in the sector and urged them to give value for money in their works.
University of Guyana Vice-Chancellor Professor Jacob Opadeyi said that government needs to involve student engineers more in public projects so as to give them the experiences needed. He made reference to a project in Trinidad which allows students of the University of the West Indies in-field interaction with professional engineers. He also charged government to implement a policy where 0.1% of the project cost should be donated for human resource development in engineering here.
To the thunderous applause of students in the conference centre's main hall, veteran engineer Charles Ceres urged that engineering students and young engineers be included in on-the-job training when there are mega projects, such as the construction of the Amaila Falls Hydro Project, the Marriott Hotel and the Cheddi Jagan Airport Expansion. Such placements are needed, he said, to give students first-hand experience in whatever new technology is being used by contractors and allowing them to use skills learned in the future execution of their own works.
A University of Guyana student, who asked not to be named, said "All they keep saying is that we are not suitably qualified, we don't have enough experience; this, that and the other. But the man is right. Where are the opportunities for those of us who want to learn who want the experience?"
"They block us out of Marriott. That is possibly one of the largest buildings being constructed in the city and that is like five minutes away from classes. Don't they think of synergising us with those trained?" he further questioned.
Comments

Grace Mugabe   HARARE,  (Reuters) – Zimbabwe's first lady Grace Mugabe returned from South Africa early today, state media reported, after a 20-year-old model accused her of assault in an upmarket Johannesburg hotel room.

Michael Bhopaul, 16, doesn't know if he is this year's best performer at    the Caribbean Secondary Examination Certificate (CSEC) Examinations, but with preliminary results showing that he has obtained passes in 25 subjects, he will be hard to top.

Inmates at the Lusignan Prison turned over 33 improvised weapons yesterday morning to prison authorities, who say that they also apologised to the prison staff for the unrest at the facility on Friday night.

Well known Berbice attorney Chandra Sohan was arrested on Friday after he allegedly struck a pedestrian in a hit and run accident along the Williamsburg Public Road.

For a little more than an hour yesterday, the streets outside the Mackenzie Market rang with the voices of dozens of Linden residents who turned out to support a march against homosexuality.