Taxi driver shot during carjacking
A taxi driver was shot on Wednesday night when he was the victim of a carjacking by two men.
Dwayne Estwick, who was shot at close range in the left buttock by one of his attackers, was a patient of the Georgetown Public Hospital until his discharge yesterday.
Estwick, 41, of Lot 1 Meadowbank, East Bank Demerara, said that his car, HC 2729 has not been found as yet.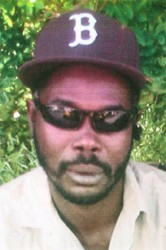 Recounting the events that led to the attack, Estwick said that he was at the Stabroek Market attempting to get passengers when he was approached by a young man.
This man, he said, was neatly attired and he seemed to be a legitimate fare. The man joined his car and instructed him to take him to Kiskadee Drive, South Ruimveldt.
Estwick added that during the journey, the man informed him that he had no cash and was going to collect money from another man. He promised Estwick that after he was done conducting his business, he would travel with him back to the Stabroek Market.
Estwick said that when they arrived at Kiskadee Drive, there was a man standing at the corner of the road in the pouring rain, attired in all black. He added that the occupant inside the car told him to stop for the other man but he became suspicious and decided to turn the car around in an attempt to escape. However, the man on the road ran up to his car and pointed a gun at him, while the man inside of the car held on to his gear stick and placed his car in park.
The man then grabbed his hands behind his back, Estwick said, and his accomplice opened the car door and ordered him to get out of the vehicle and lie on the ground.
"When he tell me to go on the ground, I said, 'What you want me to go on the ground for? You don't already have the car?' And they said that they wanted my phone too…but I said I don't have any phone," Estwick said, later noting that he kept his phone concealed.
It was at this point the gunman noticed the other man inside of the car attempting to drive off and he fired three shots at Estwick, one of which hit him in the buttock and jumped in the back seat of the car. The men escaped through Aubrey Barker Road, Estwick said
He added that no one would help him as he lay at the corner of the road bleeding. It was about 20 minutes after that someone he had called arrived for him and took him to the hospital.
Most Read This Week