By Jeanna Pearson
Link Show producers yesterday announced their exit from staging the annual satirical revue at the National Culture Centre (NCC), after years of struggling with poor lighting, sound and a malfunctioning air conditioning system.
The Link Show will now be staged at Parc Rayne, Rahaman's Park, East Bank Demerara.
Ron Robinson of The Theatre Company and Gem Madhoo-Nascimento of GEMS Theatre Produc-tions made announcement at a press conference held at the new venue, which will accommodate an audience of over 1,200 people. They said the new venue would provide patrons with a more intimate interaction with the actors on stage.
Producers have lamented the state of the facilities at the NCC for a sometime now. While Culture Minis-ter Dr Frank Anthony has said that the NCC is not earning enough to stay afloat, Madhoo-Nascimento and others have said that rental and the taxes on tickets should earn more than enough returns to cover costs.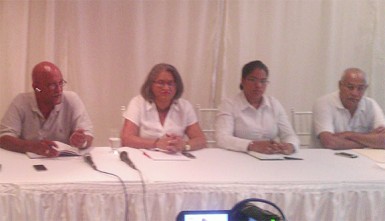 The Link Show was birthed in the NCC in 1981.Although it suffered three years of no production, the show has survived to celebrate its 30th anniversary this year and attracts thousands of people annually to the performances.
"It sad that the Link Show was born at the National Cultural Centre 33 years ago…and now we will move," said Madhoo-Nascimento. She said the move is a major milestone for the producers and the show. "We are happy to make this move and we hope that we please the Guyanese public," she added.
She stated that for too long they had endured the pains of hearing the audiences shout "more volume, more volume" after having paid to see a good performance. She lamented further that for years she had fought to get the Ministry of Culture to relax the NCC dress code. It was recently removed, but only because the air conditioning units had collapsed and people began to complain about the heat.
"We made a decision as a result of many issues to come here to Parc Rayne after looking at several venues as an alternative to the National Cultural Centre. The NCC with the seating of just under 2000 is right now facing some issues. The air conditioning unit is not working, the sound system is also terrible," Robinson said, while lamenting that the producers cannot rob their audience by not delivering what they paid to experience.
"We had to find a venue because we cannot ask our paying patrons to spend their hard-earned dollars to come to enjoy a show and leave as though they have just had a shower in their own bathroom because they are dripping with wet in the heat. So, in respect to our patrons, we decided we have to move. As such, GEMS Theatre Produc-tions are pioneers in this respect because we will be the first major producers to make a giant step like this," he stated, while saying that other producers would likely follow their path.
The producers further stated that change in venue would not reduce the Link Show's impact. "The only change for Link Show this year is the venue. We can assure patrons that the satirical revue and comment and high level of acting will take place for Link Show 30," Robinson said.
Madhoo-Nascimento added that to celebrate the show's 30th anniversary, over 100 prizes would be handed out during this year's production. One of the show's sponsors, King's Jewellery World, will be giving away one piece of jewellery each night of the show. German's Restaurant will give away 30 meal tickets, while Bounty Supermarket will give away 30 gift vouchers. The producers also stated that the major resorts have signed on with the show and will also be giving away gifts.
Ray Rahaman, Execu-tive Director of Parc Rayne, expressed joy that the show would be hosted at his venue, while stating that they would work hard to ensure its success. "We love challenges and this year is a great one and we are not going to stop at anything," he said, adding that Parc Rayne was thankful to be a part of the show.
Parc Rayne was the venue for last year's Guyana Fashion Week and has also hosted a number of weddings. Management revealed that it has been booked for 20 weddings so far this year.
The first theatrical show will be on February 20 in celebration of the Link Show's 30th anniversary.
Comments

Several hundred more sugar workers are expected to be laid off from the Skeldon, Rose Hall, and East Demerara estates by next month and the Guyana Agricultural and General Workers Union (GAWU) yesterday urged that the decision be reviewed.

The commencement order establishing the Telecommunications Agency was signed last Friday, in anticipation of the liberalisation of the telecoms sector, Minister of Public Tele-communications Cathy Hughes announced yesterday.

Nickela Craig-Singh, the woman who was arrested last Friday after the Customs Anti-Narcotic Unit (CANU) found over 10 pounds of cocaine in the ceiling of her Soesdyke home, was yesterday sentenced to four years in prison and fined over $14 million after pleading guilty to possession of the drug.

Almost two weeks after he made a Facebook post in which he questioned whether the Indian High Commission was interfering in Guyana's internal affairs, Director of Public Information Imran Khan yesterday said that he regretted the "furore" his post created and admitted that it should have benefitted from "greater elegance or not have been made." After public reprimand and criticisms coming from even within the government, Khan, who initially staunchly maintained that he voiced his concerns in his private capacity as a citizen, said in a recent post on the issue that he now appreciates how persons may have interpreted his views as being some way reflective of the office he holds.
A young man seen in a recent viral video being brutally murdered in neighbouring Venezuela has been identified as a Port Kaituma miner.