Western missions press again for anti-laundering compliance
-but still no guarantee of APNU vote
Western missions yesterday urged cooperation by all parties to finalise the anti-money laundering amendment bill, while warning that serious consequences would result from the country being black-listed by the Financial Action Task Force (FATF).
The call came ahead of planned meetings scheduled for today and tomorrow by the special select committee set up to complete work on the Anti-Money Laundering/ Combating the Financing of Terrorism (AML/CFT) (Amendment) Bill. Main opposition coalition APNU has pledged its cooperation in the committee but also recently demanded that President Donald Ramotar assents to or commits to a process to assent to bills he has turned away as a condition for its support. With the AFC saying the establishment of the Public Procurement Commission is a prerequisite for its support of the bill, APNU's votes are crucial if government hopes to pass the amendment bill when the National Assembly meets on Monday, two days before a meeting of the FATF plenary opens in Paris.
Guyana has missed two deadlines set by the Carib-bean Financial Action Task Force (CFATF) to have adequate legislation passed and as a result the group has urged its members to consider implementing measures to insulate them-selves against financial risks emanating from the country. Stakeholders in the financial services sector, including the Bankers Association, have indicated that Guyana has started to feel the effects of being black-listed, and government has warned that failure to pass the bill before the FATF meets will bring additional hardships.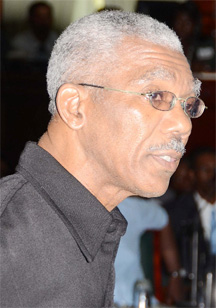 In a joint statement issued yesterday, US Ambassador Brent Hardt, British High Commission-er Andrew Ayre, Canadian High Commissioner Nicole Giles and Ambassa-dor of the European Union Robert Kopecky said they welcomed the willingness demonstrated by all parties to move Guyana toward compliance with international AML/CFT standards, including updated legislation and enhanced investigative capacity.
They noted that they have met with all stakeholders, including those from government, opposition, civil society, and the private sector on many occasions since 2012. "Our governments are, and will continue to be, actively engaged to support effective implementation of AML/CFT legislation and prosecution of money launderers and financers of terrorism," they added in the brief statement.
Ayre recently invited UK barrister-at-law and expert on money launder-ing John McKendrick to Guyana to meet with stakeholders and explain the implications of not having adequate AML/ CFT legislations.
In an interview with Stabroek News, McKendrick explained that the implications of being blacklisted could see the price of transactions going up due to increased due diligence, and the exodus of entities which provide financial services. He also said that Guyana can be seen as an attractive destination for criminals who are involved in more than money laundering. Being blacklisted can also deter foreign direct investment, McKendrick had said.
Last month, Granger committed APNU to working to finish delibera-tions on the bill before the FATF meeting but his recent statements suggest that APNU is prepared to use its support for the amendment bill as a bargaining tool to get President Ramotar to pass several bills he has refused to assent to.
Granger also says he wants the provisions of several bills, which already have the president's assent, to be implemented.
Asked if he is worried that his latest statement will be seen as a betrayal of his initial commitment, Granger yesterday responded in the negative. During a press conference, he explained that his commitment was to working at the level of the committee to finish deliberations on the bill.
Once the bill returns to the house though, APNU seems prepared to take actions similar to the AFC. Granger suggests that once the bill is brought back to the House, APNU's commitment is fulfilled and on Thursday he told Stabroek News that there is a possibility that the coalition will not support the amendment bill if the president refuses to cooperate on the unassented legislation.
The members of the select committee, follow-ing a rocky week, will be meeting today and tomorrow in a last ditch attempt to conclude their work. If they are successful, the bill can be laid and passed in the House on Monday.
Three meetings were held this past week, two of which APNU representa-tives attended. During a meeting on Monday APNU members walked out after the government insisted that the Private Sector Commission (PSC) be allowed observer status at the committee's hearings. Despite protests, the matter was put to the vote, prompting APNU mem-bers to walk out.
Another meeting was held on Tuesday but only government members attended. APNU members Jaipaul Sharma and Carl Greenidge were out of the country on official business arranged by Parliament Office, while Joseph Harmon and Basil Williams could not attend since they were required to be at APNU's Shadow Cabinet meeting.
Another meeting was held on Thursday and although some work was done the opposition members said much could not be done with Greenidge, APNU's point person on the committee, absent. Government mem-bers had suggested meet-ing yesterday but today and tomorrow were decid-ed on since Greenidge and Sharma were due back Friday evening.
Ahead of this, the PSC and the Guyana Manufac-turing and Services Association have come out publicly to call on the National Assembly to get the bill passed.
Most Read This Week