Up to US$100M more needed for GPL losses, PM says
- Gaskin sees money wasting
GPL's Chinese-funded US$45 million Transmission Upgrade programme will not put an end to the company's technical losses says Prime Minister Samuel Hinds who adds that about US$100 million more will be needed to work on secondary distribution circuits and feeders.
Technical losses account for about 14 per cent of the company's total losses – 31 per cent.
In a letter in the February 2 edition of the Sunday Stabroek, the Prime Minister also reiterated that commercial losses, which accounts for 16 per cent of total losses, can be sufficiently mitigated by a "sophisticated (metering) system" at the cost of US$75 million, but said that the company is not waiting on that "big metering investment" to address their commercial losses.
Observers, including Analyst Ramon Gaskin, are not convinced that the additional funds will accomplish much. Gaskin, who once served as general manager for the energy company said last week that GPL has been the recipient of hundreds of millions of US dollars for decades but has yet failed to sufficiently deal with the aforementioned woes.
Coincidentally, the Prime Minister's reference to the need for an additional US$100 million comes at a time when the government is attempting to source US$52.7 million via an agreement with the Inter-American Development Bank (IDB) and the European Union, through its Caribbean Investment Facility (CIF).
According to a project document on the IDB website, GPL is looking to use the funds to implement a Public Utility Upgrade Programme (PUUP) – an initiative aimed at improving the company's overall efficiency, including lowering technical and commercial losses. If the programme is approved the CIF will be contributing €$19.375 million (US$26,350,000) while an equal amount will be put up by the IDB.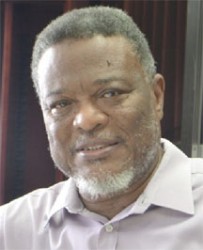 The project proposal itself acknowledges that various strategies have been tried to tackle the technical losses without success. "Key operational results and indicators show critical weaknesses in GPL's operations. Electricity losses remain high after several years of trying different strategies to curb them. Technical losses are estimated to reach 14% of gross generation, while commercial losses are estimated to add another 18%."
It also found that the service offered to customers is weak. This is attributed to, in part, dependence on "an aged, weak and overloaded transmission and distribution network, the latter consisting of long radial feeders."
GPL has long complained of its frail distribution system, explaining that much of the power that is generated and sent through the system never actually reaches the customer. Such inefficiency, coupled with the high levels of electricity theft has proved insurmountable, although the company continues to seek solutions.
Meanwhile, GPL's weaknesses, the document says, exacerbate technical losses "due to the low capability of handling the distributed energy, and also hinder efforts to reduce commercial losses, due to lack of anti-fraud type installations and adequate control support."
If the financing materialises, the resulting project will be facilitated through one of the largest loans sourced by GPL as the company struggles to shake its ever-present transmission and managerial banes.
The company's management has not been able to significantly improve its operations though critics have argued that there seems to be no overarching plan governing the needs of GPL and that this has led to the periodic realisation that more and more investment is needed.
Critics also argue that the need for another US$100 million – which may take another five years for the full effects to be seen – begs the question of why the government was proceeding in haste with the Amaila Falls Hydroelectric Project knowing fully well that GPL's transmission and distribution systems are still in need of major work.
In his letter, the Prime Minister said that according to standard utility practice, feeders are not to be loaded beyond 40 per cent of their thermal limits. He says though, that in Guyana's case the lack of finances have led to feeders being loaded way above the standard – 80 per cent to 100 per cent.
"The result has been high technical (heating) losses, voltage levels out of range, and frequent trips to protect the feeder from even small surges," he said.
But he added that the US$45 million loan sourced from the China Exim Bank – which will build seven new substations and rehabilitate two, among other things – will cut the load on the feeders by about half.
This is expected to reduce technical losses, enhance conformity to the standard voltage levels, and reduce trips. The Prime Minister added that "similar considerations apply to the secondary distribution circuits and feeders, and GPL Inc is working at this; it could cost twice as much as the Transmission Upgrade – think of US$100 million."
APNU executive member and representative to the Standing Parliamentary Committee on Natural Resources Rupert Roopnaraine acknowledges the "great amount of work" GPL has been putting in to address its technical losses and is of the opinion that some levels of success are being seen, albeit slowly. Others have not been so kind.
Gaskin, in particular, is not convinced that GPL has demonstrated the competence necessary to effect the change that is needed.
No shortage of funding
Gaskin says that GPL has had no shortage of funding. Since the 1980s, he said, GPL and the Guyana Electricity Corporation (GEC) before it, has benefited from hundreds of millions of US dollars from the IDB, the Government of Guyana (GoG), private investors, and more recently, China. Unfortunately, he said, the company been unable to cut its losses enough to discontinue its dependence on subsidies and funds to improve its infrastructure.
He said the company continues to rack up extremely high technical losses due of its aged and inefficient to transmission and distribution systems. As has been confessed by GPL officials, and emphasised by Gaskin, much of the power generated by the power company never reaches customers and is therefore not paid for. This, coupled with commercial issues, causes yearly multi-billion dollar losses, which, along with high fuel costs, force the company to rely on government funds to subsidise its operations.
Gaskin also said that the company's management is one of its most impacting failings. GPL's annual reports show that the power company's top 25 managers together make around $25 million per month. Moreover, he said that GPL's overall employee complement, which stands at around 1,200, is bleeding the company and should be cut by almost half to 750 or so.
He recalled that when he assumed the general manager position in 1993, GPL had about 1,900 employees, a number which was reduced to 1,200 by the time he left in 1995. Nineteen years later though, this number still stands at 1,200 as management has done nothing to reduce its staff complement, and the cost which follows.
"They need 750 people, they don't need 1,200. The company is badly managed, it has excessive staff which leads to high salary costs and the company's productivity is low," Gaskin lamented. He also argued that GPL's progress is impeded by a high degree of political interference.
He opined that addressing the aforementioned problems, particularly transmission and distribution inefficiencies, will cut the company's losses by about half and enable it to break even. Cutting losses by a little more than half, if GPL is able to do so, will enable the company to begin operating at a profit, thereby nullifying its need for government subsidies, he added.
Commercial losses remain a serious issue. According to Hinds, meter readings show that over 55,000 of the 175,000 customers pay less than $2,300 per month for electricity. While he voiced his willingness to accept that some of those figures are genuine, he expressed certainty that a large portion of that number must be understated.
"A consideration of GPL's billing, suggests that four out of every five customers, pay all that they should, and one out of every five customers, through a number of collusions and conniving, is not being honest with GPL, paying less than he/she should," he said. As stated before, this is also acknowledged in the PUUP project documents.
GPL has tried several tactics to curb its commercial losses but as the Prime Minister admitted, "many ways have been found to thwart our efforts, and we cannot avoid the conclusion that some number of current and past employees of GPL Inc, as well as other knowledgeable people, together with customers, have been directing their efforts towards manipulation of the system."
As far as Gaskin is concerned, pumping money into more sophisticated metering systems as a means of mitigating losses is wasteful. "Changing the type of meter has nothing to do with it. They are investing in an area unrelated to system losses. They have to deal with transmission, distribution and commercial losses [theft]."
Roopnaraine was also critical of GPL's efforts, or lack thereof, to address its commercial losses, albeit for different reasons. He said that the Prime Minister, during his last appearance before the Natural Resources Committee of Parliament, did not give the impression that enough was being done to address the company's commercial losses.
In fact, he said, the committee was of the impression that Hinds was not admitting the full scale of the challenges facing the company.
Roopnaraine also said that the Prime Minister failed to say how GPL intended to deal with the ongoing corruption in the company and to mitigate the culture of electricity theft which many Guyanese seem to embrace.
Inefficiencies
Despite much criticism though, GPL continues to push towards the acquisition of additional funds, which its management maintains is necessary to correct the inefficiencies.
To remedy these inefficiencies, the PUUP project proposes the financing of a Corporate Development Programme (CDP) which entails three components – Strengthening GPL's Management Capabilities (Component I), improving Operational Efficiency (Component II), and Infrastructure Investments for Loss Reduction (Component III).
Component I aims to strengthen GPL's management capabilities by providing its senior management with technical support for operations and projects, commercial services and information technology, finance and procurement, human resources and loss reduction. The proposal also speaks of hiring an international consultancy firm (unnamed) to help design and implement the support to GPL's management, including defining roles and profiles, as well as the performance commitments for monitoring and control of the CDP implementation and GPL's performance improvement.
Component II aims to strengthen GPL's capabilities in planning, design, commercial operation, demand-side management, and power and network preparations.
Initiatives to be financed under this component include the provision of services from experienced power system planners and design advisers.
The third and final component will finance infrastructure which will be devoted to effecting reductions in technical and commercial losses, and the improvement of safety and reliability of the system.
The programme will also seek to finance the upgrade or optimal relocation of distribution transformers at load centres.
Further, projected risks with the project's implementation are contemplated. Among the risks are difficulties in recruiting required reinforcements and GPL's lack of skilled technicians, and staff in different area of the business.
The project profile also noted that the slow implementation of existing projects – the Vreed-en-Hoop Power Station, and the Development Expansion Project – continue to consume management's capacities, and the fact that the reluctance to implement to the project could limit the support to GPL and consequently hinder the projected results.
Most Read This Week