The Marian Academy annual blood drive on Saturday secured 168 units of blood for the National Blood Transfusion Centre, a little below its record breaking 202 units last year but providing a not insignificant boost for the blood bank.
According to a press release, the school has been hosting a blood drive every year around Valentine's Day since 2007.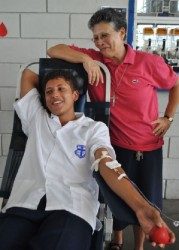 Expressing thanks to donors, the school noted that the major drivers in the activity continues to be its primary and secondary students, who mobilize teachers and fellow students in the school as well as among family members, friends, neighbours, past students, past parents among others to donate.
The students also prepare posters, banners and thank you cards, in addition to volunteering as hosts on the day of the drive, guiding donors through the process, documenting it and serving refreshments. The release noted that a blackout around 4 pm, coupled with approaching bad weather ended the blood drive prematurely.
The Marian Academy 8th annual Blood Drive was held under the theme, 'Help save a life + Give the gift of blood'.
Comments
A teen is now a remanded prisoner after he was accused of the gun-point stick up of a man.

Several candidates recorded outstanding performances at this year's Caribbean Advanced Proficiency Examination (CAPE).

 Geometric improvements will be carried out on the East Coast Railway Embankment Road come September for smoother traffic flow.
Swift action by the Law Enforcement and Investigation Division (LEID) of the Guyana Revenue Authority (GRA) aided in the removal of a large quantity of seized foreign chicken from two separate cold storage facilities in the Berbice area after it was discovered that the commodities were unlawfully being disposed of, the GRA said today.

Farha Faiz, a lawyer, speaks with the media after a verdict for the controversial Muslim quick divorce law outside the Supreme Court in New Delhi, India August 22, 2017.