The police are probing the death of an East Canje man, who was found dead this morning at his work site.
Kenneth Khanai also known as `Puri',  46,  of Lot 126 Gangaram Settlement was found with a suspected gunshot wound to his forehead by teachers and parents of the Canefield Nursery school.
The man was a security guard at the school.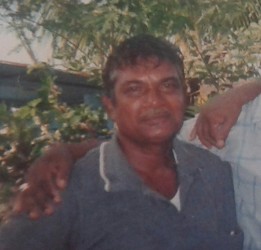 Comments

Michael Bhopaul, 16, doesn't know if he is this year's best performer at    the Caribbean Secondary Examination Certificate (CSEC) Examinations, but with preliminary results showing that he has obtained passes in 25 subjects, he will be hard to top.

Inmates at the Lusignan Prison turned over 33 improvised weapons yesterday morning to prison authorities, who say that they also apologised to the prison staff for the unrest at the facility on Friday night.

Well known Berbice attorney Chandra Sohan was arrested on Friday after he allegedly struck a pedestrian in a hit and run accident along the Williamsburg Public Road.

For a little more than an hour yesterday, the streets outside the Mackenzie Market rang with the voices of dozens of Linden residents who turned out to support a march against homosexuality.
The woman killed during the violent storm in Jawalla, Region Seven on Friday, has been identified as a mother of two, who was seven months pregnant.