Prominent Essequibo rice farmer and miller, Kayman Sankar passed away on Tuesday night at the age of 87. He had been ailing for some time.
Sankar started working as a labourer on a sugar estate and lived a life of great ups and downs.  Sankar's rice business rose to great heights only to collapse towards the end of the 1990s after a big investment in Berbice rice lands went bust with the vagaries of the European Union market.
His son, Beni Sankar, spoke with Stabroek News yesterday highlighting and praising his father's tenacity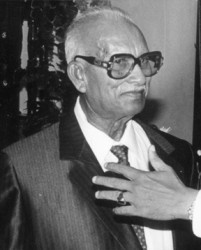 and his numerous contributions to the rice industry in Guyana.
Sankar's son stated that his father, born in June of 1926, took a chance in 1956 when he went to Perth, Essequibo and bought "some very underdeveloped land from AP Singh, whose objective was to take back the land. But my dad took that 250 acres and did something there."
He stated that his family struggled, living in a house without windows which was heavily damaged in a fire, but that his father worked tirelessly to build what would eventually be the largest rice milling business  in Guyana, the Kayman Sankar Rice Milling Company in Essequibo. Sankar's son recalled that in 1966 his father took him for the first time to Hampton Court, Essequibo. "The sugar estate, when he took me there to see that place it was all jungle…we bought two caterpillars and a bulldozer, one even got strung up… it was all jungle there". He recalled his awe at seeing the transformation of the estate, noting that it was around this time that his father went to India to hone his knowledge.
Sankar's son stated that in 1968 he went to England to study engineering with the best wishes of his father, but once he came back his father had as much tenacity as ever. "I came back and we worked Hampton Court…it was then in 1992 in the Berbice area we developed 12,000 acres of land," Beni told Stabroek News. He stated that "some in the system didn't think it could happen, but that is because they just didn't know what could grow."
He said that it was a US$20 million development, "but then in 1996 the rice prices fell and we made less than half that year, somewhere around US$3.2 million…in 2002 we were put in receivership and in 2004 we came out" of the rice business. Sankar's son recalled that through the various trials and tribulations his father was willing to always take a chance. "He was the greatest dad, a man with lots of guts and moved the industry in Guyana a lot forward, although there are some that wouldn't want to admit those things, my dad did a lot."
He continued that "although I must have put him in tight economic situations he liked it, he liked entrepreneurship, [and] he always liked that". Sankar's son said that the rice industry grew from his father's knowledge and his ambition. He stated that "many in the administration, not all, but many just didn't think things could happen. They were negative".  He said his father battled adversity often and even when the mill went into receivership his father took it in stride. "He would always say that you are today on top of the world and tomorrow it is someone else…we changed this industry…many people have land and they got land and they sit on it we developed it," Sankar's son stated.
He told Stabroek News that his father was not active in his later years and instead "he was upset because he lost so many people, my (Beni's) wife, his brother, my cousin, his son-in-law. That was his regret that he lost them too early…according to him he lived too long he would always say he was only supposed to make it to 70."
He was bedridden in recent years.
Sankar worked his way from a labourer to owning one of the largest and most profitable rice mills in Guyana and was a popular Essequibo businessman.
He was born at Cornelia Ida, West Coast Demerara and was the eldest of five. Sankar's only son along with his two daughters and his wife are left to mourn his passing. Sankar's funeral is set for tomorrow.
Comments

(ICC) Antigua and Barbuda, Guyana and St Lucia were today announced by the International Cricket Council (ICC) as the venues for the ICC Women's World Twenty20 2018, which will be staged from 9-24 November.

The sugar union, GAWU today said that more sugar workers are to be made redundant.

(Trinidad Guardian) Education Minister Anthony Garcia says the University of Trinidad and Tobago (UTT) is of the view that the organisation is "overstaffed and to run the university efficiently it will mean they have to trim fat." But former Tertiary Education Minister Fazal Karim is warning that the decision to retrench 287 staff members, will "compromise the quality of teaching and learning and administration at the university," and may impact its accreditation with the Accreditation Council of Trinidad and Tobago (ACTT).

In preparation for Guyana's emerging oil and gas sector and the bustling business usually synonymous with the industry, the Pegasus Hotel is expected to undergo a huge expansion which includes office and residential rental spaces.

Police Commissioner Seelall Persaud is to resume his duties today after spending approximately six months on leave, Public Security Minister Khemraj Ramjattan yesterday confirmed to Stabroek News.