Local law enforcers yesterday sought to dismiss reports of Mexican drug cartels operating in Guyana, even as Opposition Leader David Granger said that the revelations were further evidence that the country is drifting towards becoming a narco-state.
According to local sources, who spoke on the condition of anonymity, the only source of the information on cartel activities here is a man who says he has an agent linked to cartels operating here although there is no evidence to substantiate the claim.
"This is based on the say so of one guy. No evidence was presented and until the US authorities contact us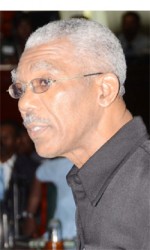 and say this is so and more evidence is provided… we are saying there is no evidence of any Mexican cartels operating in Guyana," one source told Stabroek News.
Following two dozen arrests in the United States and Italy on Tuesday, it was revealed that a lead figure in a New York crime family was plotting to work with cartels to smuggle 1,000 pounds of cocaine from Guyana to the port of Gioia Tauro in Calabria.
This was based on what Franco Lupoi a member of the Gambino crime family and one of the persons arrested in the US, said to an undercover US agent in September of 2012. According to court documents, Lupoi told the agent during a meeting that he had contacts in Guyana who could arrange the shipment of cocaine to his contacts in Italy.
At the meeting, which was recorded, he said too that he had "a great connect" who could "pack it [cocaine] into the fish," and then "freeze it in a block." According to the documents, Lupoi told the undercover agent that the supplier was a "Mexican with the cartels," who would ship it from Guyana to Italy, and possibly on to Canada, where Lupoi had "buyers to buy it up in Canada."
Lupoi later explained to the undercover agent that there were also others involved in the scheme. On October 8, 2012, the undercover agent and Lupoi met to further plan for the cocaine shipment. During the recorded meeting, Lupoi said "they put a hundred grams, two hundred grams in each fish" and "it takes a day to defrost and then it takes a day to take out."
But the source pointed out that Lupoi himself did not even say that Mexican cartels were operating here but rather that his agent in Guyana was a "Mexican with the cartels." Nevertheless, the report prompted the APNU leader to seek an audience with senior army members on Wednesday out of concern. The source, maintaining that Guyana is not under threat, said that there was no need for APNU leaders to meet the army over the issue but rather the police and the Customs Anti-Narcotics Unit (CANU).
One source noted that Guyana because of its strategic location would always interest persons but stressed that the law enforcement agencies are doing their jobs and are stopping cocaine from leaving the country on many occasions.
"A man is saying that he knows somebody in Guyana. That is not a reason for us to go all overboard. Guyana is not under threat… like other countries where there are beheadings and things are out of control. The government is still in charge and there is no need to meet the army," the source stressed.
The source said too that law enforcement is not disputing the fact that drugs leave Guyana but that they have not seen any evidence to suggest that any foreigner is operating in Guyana and that this would be refuted until there is evidence to prove otherwise.
"We are not saying that it is not happening, but there is no information to suggest this," the source said.
One source pointed out that Guyana has made international news in recent times based on mere hearsay with no evidence to support it. It was pointed out that the recent terror threat made to Caribbean Airlines, which resulted in the US advising citizens not to travel on the airline, was based on a mere phone call from someone who said that the airline would be sabotaged. There was no description on how this would have been done but the conclusion was drawn that it would be terror related, the source pointed out.
'Drifting towards narco-statehood'
But Granger, at a news conference yesterday to deal with the recent revelations, said that violent crime is scaring investors, driving away the educated elites, undermining economic growth and impeding social development.
Reading from a prepared statement at his Hadfield Street office, he said that narcotics trading "seems to be increasing" and crime is driving this country's high rate of money laundering, gun running, execution murders and armed robberies.
"A former crime chief warned that execution-type killings, many of which [are] suspected to be related to the narcotics trafficking business, account for about one third of all murders," he said.
The US Department of State, he noted, last year once again noted, "Guyana is a transit country for cocaine destined for the United States, Canada, the Caribbean, Europe and West Africa. Cocaine originating in Colombia is smuggled to Venezuela and onward to Guyana by sea or air… Cocaine is often contained in legitimate commodities and smuggled via commercial maritime vessels, air transport, human couriers or the postal services."
He said that the PPP/C administration has not seriously confronted the challenges of narcotics trafficking and he noted that the government's National Drug Strategy Master Plan was launched nine years ago and was allowed to lapse without full implementation.
According to Granger, the lucrative narco trade is said to earn the equivalent of about 20% or more of Guyana's reported Gross Domestic product. He said that this trade, however, creates gangs, which use their wealth to "purchase political influence" and influence the security forces in order to secure their trade.
He said that they also distort the economy through front businesses that sell at below market prices, which undermines legitimate businesses. Granger added that there has been no large domestic seizures of cocaine nor has any member of the narco trafficking cartel been punished by a court of law.
He said that the recent revelation is "evidence of a dangerous deterioration in public security" and added that the presence of narcotic trafficking is a direct result of the Ministry of Home Affairs' failure to implement a credible counter narcotic strategy to enforce domestic laws and to bring traffickers before the court.
Granger said too that Guyana/Italy cocaine conspiracy confirms that Guyana is "drifting towards becoming a narco-state. This must not be allowed to happen."
Asked about the importance of the delayed anti-money laundering bill in light of this latest discovery, Granger said, "Indeed, we are concerned that dirty money gained from the narcotics trade could be laundered through legitimate businesses or the banking system." He said that it is because of this that APNU is committed to producing a clean anti-money laundering bill.
He said like the National Drug Strategy Master Plan, the government has deliberately not enforced its own anti-money laundering bill and has now been forced to do so 14 years later. "There is no point coming to the opposition at the eleventh hour demanding that we implement reforms…that is what we are working on," he stressed. "I agree that the two are linked and we want to ensure that money from narco trafficking is not laundered and at the same time we want to see this narco trafficking come to an end," he added.
Shadow Home Affairs Minister Winston Felix also pointed out that narco traffickers try to get their way by going after internal structures such as the judiciary, the police and society at large. "When they can't get their way then you get the hits coming," he said before adding that at the heart of this issue is an attempt by APNU to "push the government into a position where we can make the society safer by ensuring that the State exercise its power of control over anti-narcotics activities."
He said that it is only the "hustlers," who carry small amounts, who are pursued. "At the higher end…. lies the big ones," he noted.
Comments

Eighteen prisoners at the Lusignan penitentiary were being treated for injuries last night following a reported attempt to kill a fellow inmate during which warders fired shots.

A 12-year-old girl is now dead, while her brother narrowly escaped a similar fate yesterday after their aunt's La Bonne Intention (LBI), East Coast Demerara house, which they were under, collapsed on them.

Guyana has officially applied for membership in the European Union's Extractive Industries Transparency Initiative (EITI) which will help in tracking revenues from oil and other natural resources.

State Minister Joseph Harmon yesterday reiterated that President David Granger's directive to the Police Service Commission to halt its consideration of promotions was intended to prevent damage to the image of the Guyana Police Force but he could not say under what authority the head of state acted.

While saying that a strong security presence along the country's borders is the first line of defence against transnational criminal syndicates, President David Granger yesterday called for cooperation by all actors to see the security of Region Nine as a priority.