Four men and a woman are in police custody over the gunning down of a guard at an East Canje nursery school at around 2 am yesterday.
The community of Canefield in East Canje, Berbice was left in a state of shock when Kenneth Kanhai was discovered dead at his work site.
Teachers of the Canefield Nursery School had showed up promptly at the school at 8:00hrs for what was supposed to be a normal work day, when they made the gruesome discovery.  Fifty-five-year- old Kanhai also known as 'Puri' who served as the security guard of the school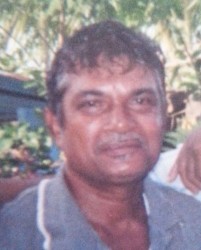 for several years was found halfway sprawled on a table facing forward with a suspected gunshot wound to his forehead.
Closer inspection of the body revealed that he was also shot in the back. There were no other visible wounds on the body. Two spent shells were recovered by police officers near a drain behind the school's building.
Brother of the deceas-ed, Kenneth Ramnarine Kanhai (Robert) told Stabroek News he was heading home when a friend approached him and asked if he heard what had happened to his brother. "On my way home, a friend stop me and ask if `Puri' does trouble with pressure, and when I said no, he tell me how they find me brother dead at the school.
Right away I come and see what happen. I can't believe someone kill he". Kanhai was at a loss as to why someone would want to harm his brother. "He brand new motorbike (CE 6342) still there, and nothing missing from the school," he noted, adding that "there was no sign of forced entry. The back door bolted shut and the locks still on the front door. So why they kill me brother, I don't know".
It is unclear if and how the assailant gained entry into the building.
But one theory is that Kanhai was first shot in the back (possibly through a grilled window at the back of the building) and tried to make his way to the front of the building where he was then shot in the forehead. Droplets of blood marked a trail from the back door to the front of the school where the body was found.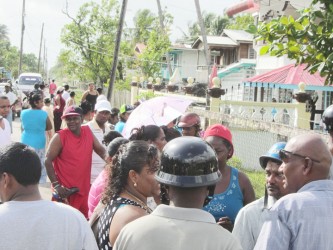 As parents returned home with their children, word quickly spread throughout the village resulting in a sizeable crowd assembling in front of the school. Soon, other family members of the dead man who live in the nearby villages congregated at the school to confirm the news.
Maggie Deonauth, a sister-in-law of the deceased said that while she could not think of anyone who would want to hurt "Puri", he was known to overindulge in alcoholic beverages, and this may have led to a "beef" with someone. "Me nah know if he get enemy, but he does drink a lot and you know how people does behave when them drunk".
Meanwhile, several persons who live near the school, commented on hearing what sounded like gunshots sometime around 2:00hrs but did nothing because such an occurrence is "normal round here to hear them things that". One person even voiced concerns that the police are not doing enough to curb the influx of weapons into the Canje area.
Kanhai, a father of two, shared his Lot 26 Gangaram Settlement residence with his wife Mini, who was visiting relatives in Georgetown at the time of his murder.
The police have launched an investigation into the circumstances surrounding Kanhai's death.
Comments

The legal team for former New Building Society (NBS) manager, Maurice Arjoon, who was wrongfully dismissed, have levied on the bank's assets in a bid to recoup the $59,033,000 pension owed to him by the financial institution.
An alleged inebriated farmer of 54 Strath Campbell Village, Mahaicony, ECD, died at about 3 pm  yesterday at Chance Village, Mahaicony, after a vehicle he was reportedly not given permission to drive, crashed into a utility pole.

MELBOURNE,  (Reuters) – Rafa Nadal's Australian Open quarter-final curse struck again on Tuesday, an injury forcing the top seed to retire in the fifth set against Croatia's Marin Cilic.

Several hundred more sugar workers are expected to be laid off from the Skeldon, Rose Hall, and East Demerara estates by next month and the Guyana Agricultural and General Workers Union (GAWU) yesterday urged that the decision be reviewed.

The commencement order establishing the Telecommunications Agency was signed last Friday, in anticipation of the liberalisation of the telecoms sector, Minister of Public Tele-communications Cathy Hughes announced yesterday.