Seventh edition of tourist magazine bilingual
The Ministry of Tourism yesterday hosted the launching of the 7th edition of the Guyana where and what magazine.
The 140-page, pocket-sized magazine seeks to edify and guide tourists and potential tourists as well as Guyanese citizens on Guyana, Tourism Minister Irfaan Ali said.
Editor of the magazine, Gem Madhoo-Nascimento said every year the magazine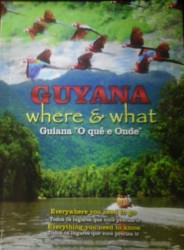 is published she aims at including additional information. She said in this year's edition, the 1763 monument was added and for next year's edition, she looks forward to including New Amsterdam, Berbice in the magazine.
The public information section in this year's edition has been presented in both English and Portu-guese. Kit Nascimento, President of The Tourism and Hospitality Associa-tion of Guyana (THAG) said the magazine is currently on its way to being published in Portuguese as well. He added that the magazine, which is widely available nationwide and at the Cheddi Jagan International Airport, Timehri and Ogle Airport, hotels and restaurants among others, is also used as an educational tool. He said students are often times urged by teachers to uplift copies of the magazine.
The magazine, which is available free of cost can also be viewed online at www.guyanawhereandwhatonline.com. Madhoo-Nascimento said the 20,000 copies of the magazine produced will soon have to be increased since copies are usually finished by the sixth to seventh month of the year.
Ali said that the Ministry of Tourism is presently working on a Dining Guide, which will showcase places to eat in Guyana and added the guide will be widely available across Guyana as well.
He said Guyana's tourism industry is developing. He pointed out the increased number of yachts that visited Guyana's shores last year and further said that for 2014 thus far, around eight yachts have visited. Ali said the possibility of deep sea sports fishing is also being looked at as a tourism attraction.
Guyana where & what is published by General Executive Management Services (GEMS) Inc
Most Read This Week