Justice Rabi Sukul has been disbarred from the United Kingdom Bar after it was discovered that he intentionally misled his client by drafting false grounds of appeal in a drugs related case and he has since been asked to immediately resign as a judge of Guyana's Court of Appeal.
Sukul's troubles have seemingly caught the local judiciary off guard. He was sworn in as a Court of Appeal judge by President Donald Ramotar last year July.
According to the Law Society Gazette, the London bar's disciplinary tribunal heard that Sukul, of Balham Chambers, London, drafted a document to the Court of Appeal (in the UK) setting out initial grounds for an appeal against conviction on behalf of his client, L, who had been convicted of drugs-related offences.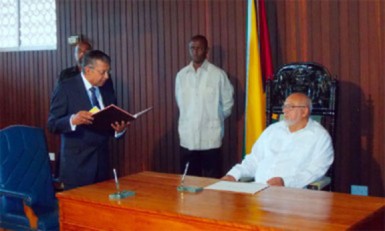 "The tribunal found he had created the document, knowing it to be false, with the intention of misleading L into believing he had grounds to appeal his conviction, when Sukul knew there were no grounds of appeal," the publication which was dated February 5, 2014 said.
It was explained that a five-person tribunal, chaired by Michael Baker QC, found unanimously that Sukul, a London barrister had intentionally misled his client and engaged in conduct "likely to bring the legal profession into disrepute." As such, it was stated, Sukul was ordered to be disbarred.
The decision is open to appeal, the publication said, adding that Sukul was called to the bar by Lincoln's Inn in July 1988.
Head of professional conduct at the Bar Standards Board Sara Down said "our duty as a regulator is, first and foremost, to protect the public and safeguard the client. Because of his behaviour, Mr Sukul not only potentially gave his client false hope of a possible appeal against his conviction, but acted counter to his obligation not to knowingly or recklessly mislead the court."
Meanwhile a statement from the Office of the Chancellor said that it only became aware that Sukul was disbarred by the Bar Council of England and Wales, last Friday (February 14) and that following the receipt of that news the acting Chancellor sought and obtained from Justice Sukul confirmation of his disbarment. The statement went on to say that the acting Chancellor has since requested the immediate resignation of Justice Sukul who has undertaken to do so.
According to the statement Justice Sukul had earlier applied for and was granted special leave "to attend to urgent personal matters in the United Kingdom."
Attorney General Anil Nandlall in an invited comment yesterday afternoon said that "I am completed surprised." He said that he was unaware that proceedings were pending against Sukul adding that he came to Guyana, very highly recommended by a distinguished Law Lord and another highly placed person in England.
Nandlall was among several members of the judiciary who were present at the Office of the President to witness the simple swearing in ceremony on July 27 last.
After taking the Oath of Office, Justice Sukul said it was a landmark occasion for him and he expressed thanks to the President, the Chancellor of the Judiciary and the Office of the Judicial Service Commission (JSC) who stood by him.
Ramotar, in a short speech, expressed hope that his service would be a lengthy one and that he would be fair in his decisions.
Asked by reporters what ideas he brought to the judicial system, Justice Sukul responded that for him to answer that question "truthfully and practically, it will take some time." He said that he was bringing from England 25 years of legal practice "in a jurisdiction that has probably framed local jurisprudence, that I think is potentially quite helpful." He said that he intends to apply the legal principles as well as law, logic and good, sound, objective judicial reasoning, which he has learnt during his practice in the United Kingdom, and will apply in his native land.
He had said too that Guyana's judicial system was unique as it was not open to criticism like that in the United Kingdom. He said he had seen shortcomings there for many years and had complained about them.
Efforts to contact Sukul or his relatives were futile. This newspaper was later told that he may still be in England.
Persons in the local judicial fraternity said that this is a most embarrassing situation for Guyana and it was pointed out that Justice Sukul on several occasions had spoken negatively about the judiciary here.
President of the Guyana Bar Association (GBA) Ronald Burch-Smith told Stabroek News that while the news was "quite shocking" he hoped that background checks were done and that this issue only arose after Sukul had been appointed.
He said that the constitutional provisions of the Judicial Service Commission (JSC) provide for a nominee from the GBA. He said there has been no GBA nominee for some time because that person cannot be in active practice. He said that in these circumstances it has been difficult to find a nominee.
Burch-Smith recalled that last year questions were posed to the GBA about its participation in the JSC.
He said he was not involved in the process associated with Sukul's appointment. According to the attorney, previously he had spoken to the Registrar of the Supreme Court about the implementation of a system where lawyers who are re-migrating should show that they are in good standing. He expressed hope that the JSC had done the required background checks and called on the acting Chancellor to make that information public.
The attorney told Stabroek News that if this had not been done then it brings "our judgment into question."
He said this situation was very embarrassing especially given that it has occurred at a time when the Caribbean Court of Justice (CCJ) will be sitting in Guyana. "It makes us look bad," he said. Previously the GBA had met the acting Chancellor about having public consultations or even consultations with the Bar on the issue of the appointment of judges. In the light of what has happened, Burch-Smith urged that such consultations be made a formal part of the process.
Comments

(Trinidad Guardian) Fifty five years after it was formed by legendary calypsonian Lord Kitchener, the Kalypso Revue tent is set to close due to financial constraints.

Finally honouring a court decision, the New Building Society (NBS) yesterday afternoon wrote a $59,033,000 cheque to former manager Maurice Arjoon for pension owed, after his lawyers attempted to levy on the assets of the bank, which then locked the doors of its Avenue of the Republic headquarters with customers and others inside.

A Diamond resident was yesterday remanded to prison after being charged with the death of Ishwar Ramanah, the Kaneville machine operator who was fatally shot during a robbery at his home last month.

A Sisters Village shop owner and his wife were seriously injured on Monday evening when they were attacked by cutlass-wielding bandits, who robbed them of the day's sales.

Although the Government of Guyana has paid more than $26 million for the Commission of Inquiry (CoI) into the education system, its final report has not been submitted after nearly two years.