The New Sococo Enterprise, a local producer and exporter of coconut milk and fruit juices, has once again been linked to the drug trade, following the revelation of a reported plot by United States and Italian crime syndicates to export hundreds of kilogrammes of cocaine from Guyana to Italy.
Last week, United States and Italian law enforcement authorities announced the dismantling of a major trans-Atlantic mafia ring, which planned to smuggle some 1,000 pounds of cocaine from Guyana to Southern Italy with the help of Mexican drug cartels said to be already operating here.
Reports on the resulting arrests in both the United States and Italy said that FBI and Italian investigators had intercepted e-mail messages between mobsters in Italy and the fruit canning company. Court documents stated that in conversations recorded by an undercover agent, the conspirators discussed their connections to Mexican drug cartels operating here and they plotted to transport 500 kilogrammes of cocaine internationally, hidden in shipments of frozen fish or pineapples. However, "the conspiracy slowed when shipping containers originating from the same Guyanese shipping company were seized in Malaysia and found to contain more than $7 million in cocaine hidden in pineapples and coconut milk."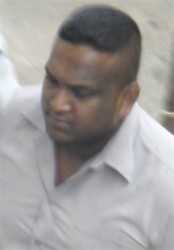 New Sococo Enterprise, which is still in operation at Lot 1 Coldingen, East Coast Demerara, had been linked to the Malaysia seizure, which resulted in charges being laid locally against an employee and a former employee of the company.
Based on online searches, New Sococo was established in 2002. It manufactures and exports canned coconut milk and cream as well as the packaging of a range of fruit juices and fresh fruit, including pineapples. Back in 2007, the company launched a line of canned coconut and pineapple products.
Several attempts to contact the Managing Director Manjula Brijmohan or any other person affiliated with the company both last Friday and yesterday for comment were futile.
Persons knowledgeable about the company's operations, however, told Stabroek News recently that the business has slowed down and it was "sucking blows a good time now."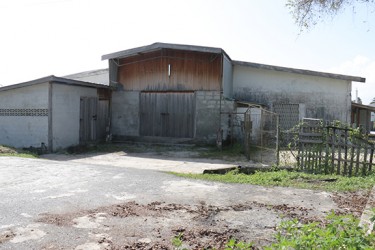 When this newspaper visited the location last Friday, the gate was padlocked and the building appeared to be deserted. Stabroek News was told that an employee is usually in the building every day and he may have left moments before this newspaper's reporter arrived.
The building, which is being rented by the company, sits at the end of a cul-de-sac and the door leading to the inside of the facility is hidden by an extension to the front of the building. The door cannot be seen from the side because of how the extension is situated.
Although there was a small pile of coconut shells in the yard, there were no signs that large scale canning of coconut products or fruits were taking place. This newspaper was told that business at the location has seemingly slowed since not many trucks go the facility with produce to be canned.
Following the Malaysian seizure, employees of New Sococo were charged.  Looknaught Denasur, a manager at the packaging company pleaded guilty to conspiring to traffic in an unknown amount of liquid cocaine. He was sentenced to four years imprisonment. The other man, Vijay Bisraj, then 25 and identified as a "seaman," had denied the allegation. Bisraj, who had previously worked at the New Sococo packaging plant for about 10 years, was described as an expert in sealing metal cans.
It is unclear if local law enforcement authorities in light of the new link would have questioned the management of the business or may have the building under surveillance, particularly since some law enforcers are downplaying the Guyana link in the cocaine conspiracy.
"Operation New Bridge," which was carried out by FBI and Italian agents simultaneously just after midnight in Brooklyn, New York, and just before dawn in Italy last Tuesday, resulted in 24 arrests.
Among those arrested were Franco Lupoi, a member of the Gambino crime family with links to Italy's 'Ndrangheta crime syndicate. It is being alleged that plotted to transport 500 kilogrammes of cocaine internationally from Guyana to the Southern Italian port of Gioia Tauro in Calabria.
According to court documents, Lupoi told an undercover US agent in September of 2012 that he had contacts in Guyana who could arrange the shipment of cocaine to his contacts in Italy.
At the meeting, which was recorded, he said too that he had "a great connect" who could "pack it [cocaine] into the fish," and then "freeze it in a block." According to the documents, Lupoi told the undercover agent that the supplier was a "Mexican with the cartels," who would ship it from Guyana to Italy, and possibly on to Canada, where Lupoi had "buyers to buy it up in Canada."
Lupoi later explained to the undercover agent that there were also others involved in the scheme. On October 8, 2012, the undercover agent and Lupoi met to further plan for the cocaine shipment. During the recorded meeting, Lupoi said "they put a hundred grams, two hundred grams in each fish" and "it takes a day to defrost and then it takes a day to take out."
Comments

(ICC) Antigua and Barbuda, Guyana and St Lucia were today announced by the International Cricket Council (ICC) as the venues for the ICC Women's World Twenty20 2018, which will be staged from 9-24 November.

The sugar union, GAWU today said that more sugar workers are to be made redundant.

(Trinidad Guardian) Education Minister Anthony Garcia says the University of Trinidad and Tobago (UTT) is of the view that the organisation is "overstaffed and to run the university efficiently it will mean they have to trim fat." But former Tertiary Education Minister Fazal Karim is warning that the decision to retrench 287 staff members, will "compromise the quality of teaching and learning and administration at the university," and may impact its accreditation with the Accreditation Council of Trinidad and Tobago (ACTT).

In preparation for Guyana's emerging oil and gas sector and the bustling business usually synonymous with the industry, the Pegasus Hotel is expected to undergo a huge expansion which includes office and residential rental spaces.

Police Commissioner Seelall Persaud is to resume his duties today after spending approximately six months on leave, Public Security Minister Khemraj Ramjattan yesterday confirmed to Stabroek News.