Fatima Martin, the babysitter sentenced to five years in prison for assaulting an infant child, plans to appeal her sentence and to file complaints against her former employers for allegedly assaulting and threatening her after she confessed to the crime.
Fatima Martin's sister Charmain Martin and her aunt Gloria Johnson announced the plans to reporters yesterday at the Guyana Women Miners Organisation (GWMO) office on Brickdam, where they also alleged that the 19-year-old woman had been working under oppressive conditions, including not being allowed to leave her employers' house when she wanted.
Magistrate Geeta Chandan-Edmond and her husband Joel Edmond employed Martin as a babysitter. When Stabroek News contacted the magistrate and her husband yesterday, they declined to comment on the allegations but produced a medical report on the injuries the baby suffered.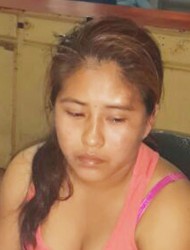 The child, who is one year old, received medical attention for injuries most likely caused by blunt trauma—often seen in strangulation, the report said. It also noted that the injuries on such a small child could have serious intracranial consequences.
In light of the outcry over the 60-month sentence, which saw a protest organised on Monday to coincide with a Caribbean Court of Justice (CCJ) workshop for jurists, the Guyana Bar Association (GBA) has taken a decision to inquire into the case to determine whether it should provide pro bono services to Martin.
As a result, attorneys Mohamed Ali and Christopher Ram, who are GBA executive committee members, visited the woman at the Beterverwaging Police Station and took a statement from her. In the statement, Martin admitted to committing the assault on the child and alleged that the magistrate assaulted her after she confessed to the crime and that her husband threatened her.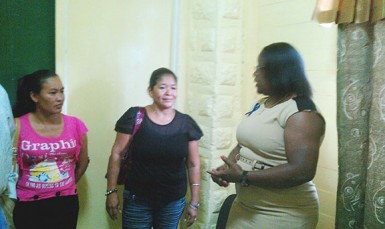 According to the statement, Martin, who was left alone with the child last Tuesday, was attempting to change her diaper when she committed the assault. "…The baby refused to allow me to put pampers on her and I do not know what got into me and I hit her in her face with the back of my hand," she said.
She added that the baby started to cry and she realized that the child's eyes were bruised. She subsequently contacted the magistrate and requested that she should return home in connection with the baby.
Martin said she hid the truth from her employers but confessed the next day after they threatened to call the police. Upon her confession, she said, the magistrate became enraged and assaulted her in the presence of a police inspector, who did nothing. At this point, she claimed the child's father threatened her.
Two days later, Martin said she was still unaware of the charges against her and had not received any advice on any rights she might have. She said that Magistrate Sueanna Lovell who sentenced her, did not ask her to make any statement, or inquired whether she had a lawyer or wanted to say anything.
However, while protestors have accused the magistrate of acting prejudicially in handing down the 60-month sentence, sources told Stabroek News that Magistrate Lovell is maintaining that after considering the extent of the injuries inflicted on the baby and Martin's lack of remorse during the court hearing, it was the right decision.
Meanwhile, Martin's relative said yesterday that they were not running away from the fact that she committed a crime but they were working to ensure she has a fair trial.
"This is not the place for her to be. This is wrong. She is not a rude person and she is very hard working," said Johnson, who alleged that Martin was saddled with additional duties that she had not agreed to. "She would cook, clean, wash and look after the baby," said Johnson, who also claimed that Martin became stressed out at the  amount of work she was required to do.
She stated that Martin was weeping when she visited her in prison on Monday. "I told her that we will go all out because people have to know that this is wrong. They didn't give her a chance to get a lawyer and talk to her family they just dumped her because they know that she don't have anybody," she added.
Simona Broomes, head of the GWMO, one of the organisations that participated in Monday's protest, said the teen worked 24 hours a day, was not given a lunch break and was not allowed to visit her family when she wanted. She said Martin had to sleep with the baby every night.
Comments
British High Commissioner to Guyana Greg  Quinn  yesterday said that it was hoped that more would have been done to push the constitutional reform process forward.

A West Coast Berbice man died after he reportedly set his one-storey house ablaze sometime around 11.20 am yesterday.

A Yarrowkabra miner was yesterday charged with the murder of a co-worker, whom he allegedly beat to death during an alcohol-fuelled clash last Saturday at a dredge site in the Potaro Backdam.
A court action was yesterday filed challenging a directive issued in the name of President David Granger to the Police Service Commission (PSC) for a hold to be placed on planned promotions this year, Attorney Rajendra Jaigobin, who operates from the Chambers of former Attorney General Anil Nandlall, is seeking the following declarations by the court: "a declaration that the Police Service Commission, a Commission established by the Constitution of the Cooperative Republic of Guyana, in the exercise of its functions shall not be subject to the direction or control of any other person or authority;
UK security expert Lt Col (rtd) Russell Combe, who is working closely with the Guyana government to resuscitate the Security Sector Reform Action Plan (SSRAP), will be broadening his mandate to assess the country's prison situation.