Residents of Cane Grove, Mahaica say they are fed up with the deplorable condition of the road and are calling on the government to fix it urgently.
Drivers complained that the road which is deteriorating rapidly is causing serious damage to their vehicles and puts them in a lot of extra expense.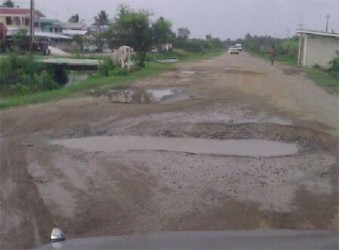 According to them, the road is a major setback for development in the area and that a trip to the main road that would usually take 10 minutes is now taking half hour.
Comments

Eighteen prisoners at the Lusignan penitentiary were being treated for injuries last night following a reported attempt to kill a fellow inmate during which warders fired shots.

A 12-year-old girl is now dead, while her brother narrowly escaped a similar fate yesterday after their aunt's La Bonne Intention (LBI), East Coast Demerara house, which they were under, collapsed on them.

Guyana has officially applied for membership in the European Union's Extractive Industries Transparency Initiative (EITI) which will help in tracking revenues from oil and other natural resources.

State Minister Joseph Harmon yesterday reiterated that President David Granger's directive to the Police Service Commission to halt its consideration of promotions was intended to prevent damage to the image of the Guyana Police Force but he could not say under what authority the head of state acted.

While saying that a strong security presence along the country's borders is the first line of defence against transnational criminal syndicates, President David Granger yesterday called for cooperation by all actors to see the security of Region Nine as a priority.