An Albouystown man was fatally shot in front of his home early yesterday morning in a suspected robbery.
Vibert Samuels, 52, of Coconut Walk and Callendar Street, Albouystown, succumbed while receiving treatment at the Georgetown Public Hospital.
Police said in a statement that Samuels' body was found at about 5:30 am with a suspected bullet wound to the back.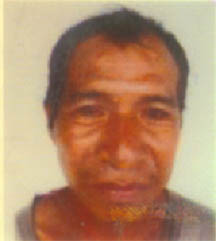 Divisional Commander George Vyphuis told Stabroek News yesterday morning that the motive and circumstances surrounding the shooting were unclear. However, Samuels' relatives later said that they heard someone arguing with him on the road and they found him lying on the road with his pockets turned inside out after the attack, suggesting he was the victim of a robbery.
Samuels, a gardener and painter, would routinely go for a walk in the mornings and he would purchase oranges from a vendor at the head of his street. Maureen Samuels was in her bed when she heard a loud argument coming from the outside of her home. At this point, she said, she didn't think anything of the argument and did not know her brother was on the road.
"You better don't fight back or ah will kill ya!" she heard someone say in a loud tone.
She added that the argument got louder and then she heard a gunshot. After hearing the shot, she said she then peeped through her window. It was at this point she noticed a man lying on the road, while a younger man, believed to be in his late teens or early twenties, was standing over the man's body.
The shooter, Maureen said, looked towards her window, leading her to think he saw someone looking at him before he rode off on a bicycle.
Samuels' aunt, who asked not to be named, added that his pants' pockets were turned inside out, which led the family to believe that the motive for Samuels' shooting was robbery.
Some persons living in the area said that they too heard the loud argument before hearing the gunshot.
Samuels' sister said after the shooter left, she then realised the man lying on the road was her brother. She added that she went on the road to help her brother up but she got no response. Family members said they had no idea who would want to hurt Samuels and they were convinced that a robber shot him.
They described him as a quiet and easy-going man, who had no troubles with anyone. He was a father of three.
A post-mortem examination is expected to be conducted today on Samuels' body.
Comments

Wijeyadasa Rajapakshe   COLOMBO, (Reuters) – Sri Lankan President Maithripala Sirisena today sacked the justice minister over his criticism of a $1.1 billion deal, signed last month, to lease a port to a Chinese company, the cabinet spokesman said.

NEW YORK,  (Reuters) – Two Harvard University researchers said in a study published today they had collected scientific data proving Exxon Mobil Corp made "explicit factual misrepresentations" in newspaper ads it purchased to convey its views on the oil industry and climate science.

In the wake of rising bad loans and a massive alleged fraud against it this year, the Guyana Bank for Trade and Industry (GBTI) has posted an unaudited net after tax profit of $603m for the first six months of this year compared to $961m in the same period for 2016.

Vamanadev Hiralall, of the privately-run Saraswati Vidya Niketan (SVN), is the country's top performer at this year's Caribbean Advanced Proficiency Examinations (CAPE) after achieving an accumulated 13 grade one and 3 grade two passes.

Twenty-six students in the top one percent of the 12,684 who sat this year's Caribbean Secondary Education Certification (CSEC) examinations earned 12 or more Grade I passes, with half of them, including the top performer, coming from Queen's College (QC).