A West Berbice spiritualist yesterday appeared in the Fort Wellington Magistrate's Court  charged with murdering his friend and broke down in tears when the charge was read to him.
It is alleged that between Sunday February 16 and Monday February 17 at D' Edward Village, Satrohan Madray, 27, called 'Bluie' murdered 20-year-old Dinesh 'Kevin' Harrylall.
Magistrate Rondell Weaver remanded him to prison and ordered him to return to court on March 20 when the case comes up again.

Harrylall, a construction worker of Woodley Park had visited Madray's house at D' Edward around 10:45 pm when he was reportedly fatally wounded with a knife and rolling pin.
Attorney-at-law, Tejnarine Ramroop entered an appearance for the accused. He made a request for his client to seek medical attention for injuries he allegedly sustained while in police custody and it was granted by the magistrate.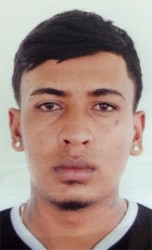 Ramroop submitted that Madray was badly beaten to sign a confession statement. He told the court too that he visited the station on Tuesday and was denied his rights to speak to his client.
He said after learning that Madray was crying out in pain from the beating he insisted that the police take him to the hospital but they refused.
He told the court too that it was not until around 7 pm when Madray collapsed from his injuries that the police took him to the hospital.
During the hearing, the defendant was crying loudly and also collapsed to the floor. The lawyer called his mother to stand next to him to give him support. Hugging his mother, he cried out, "I didn't do this. Mommy I didn't do this…"
Meanwhile, the results of a post-mortem examination proved that Harrylall died from cerebral haemorrhage and multiple fractures to the head.
He was found lying face up on a carpet with a gaping wound to his right temple and across his forehead. He also sustained seven stab wounds to the back of his head and his right hand was "black and blue."
The rolling pin was found in the kitchen and the knife was recovered in a Kali temple attached to Madray's house.
Comments

(Reuters) – England's top order fired in unison to give them a four-wicket win in the second one-day international against Australia on Friday as Aaron Finch's second straight hundred for the hosts could not prevent them falling 2-0 behind in the series.

Four weeks after passing a $267 billion budget for 2018, the National Assembly will debate a supplemental provision of $1.75 billion to meet a portion of the severance pay for around 4,000 sugar workers.

Autopsies performed on the bodies of Ambrose Baharally and Martin Godette, the Pomeroon farmers who were shot dead on Sunday, have found that both men died from gunshot injuries to the head.

The ground-breaking Whistleblower Protection Bill was passed in the National Assembly last evening without amendment, although there was opposition to the formulation of a commission to act as the governing body.

The preservation of land assets is essential to the creation of a green state and a good life for future generations, President David Granger said yesterday at the launch of a US$15M Sustainable Land Development and Management Project.