A West Ruimveldt man was committed to stand trial on Tuesday for attempting to kill a man in a row over a missing cellphone.
Victor Pindar, 41, of 295 West Ruimveldt, Housing Scheme, had maintained his innocence throughout his preliminary inquiry into the charge against him at the Georgetown Magis-trates' Courts.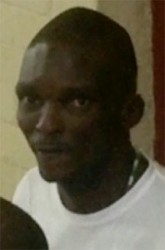 It was alleged that Pindar, called 'Poison,' on October 21, 2013, at Leopold Street, stabbed Carlsdale Aaron, during a row over the man's lost cellphone. According to Police Prosecutor, Neville Jeffers, Pindar used a knife to stab the man several times about his body and then ran away. Aaron was subsequently hospitalised and underwent emergency surgery. Aaron, the court heard, lost a kidney as a result of the stabbing.
At the conclusion of the preliminary inquiry, which saw approximately seven witness testify, Magistrate Ann McLennan found that there was sufficient evidence for Pindar to face a trial.
Comments

Michael Bhopaul, 16, doesn't know if he is this year's best performer at    the Caribbean Secondary Examination Certificate (CSEC) Examinations, but with preliminary results showing that he has obtained passes in 25 subjects, he will be hard to top.

Inmates at the Lusignan Prison turned over 33 improvised weapons yesterday morning to prison authorities, who say that they also apologised to the prison staff for the unrest at the facility on Friday night.

Well known Berbice attorney Chandra Sohan was arrested on Friday after he allegedly struck a pedestrian in a hit and run accident along the Williamsburg Public Road.

For a little more than an hour yesterday, the streets outside the Mackenzie Market rang with the voices of dozens of Linden residents who turned out to support a march against homosexuality.
The woman killed during the violent storm in Jawalla, Region Seven on Friday, has been identified as a mother of two, who was seven months pregnant.