The Guyana Securities Council (GSC) is seeking court orders for the Managing Director of Caribbean Containers Inc (CCI) Ron Webster to account for all sums from what it said was an "impugned" shares transfer and for full restitution to be made of all sums received by him from it.
The GSC on January 30th 2014 sued Webster over a CCI shares transfer and other matters. The writ followed extensive questioning in the media last year by chartered accountant Christopher Ram about how the shareholding of CCI ended up in companies owned and controlled by Webster, also a longstanding director of CCI. Webster had denied any wrongdoing and filed legal action against Ram.
In court papers filed by attorney at law Stephen Fraser and seen by this newspaper, the GSC was named as the plaintiff while Webster, Demerara Holdings Inc., Caribbean Containers Inc and Technology Investments and Management Inc. were listed as the defendants.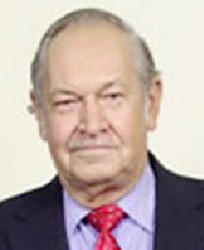 Apart from CCI, the GSC lists Demerara Holdings Inc and Techno-logy Investments and Management Inc as companies managed by Webster.
In the indorsement of claim, the GSC said that it was seeking a declaration that CCI breached the Securities Industries (Disclosure by Reporting Issuers) Regulations 2002 when it failed to disclose the contract between CCI and Technology Invest-ments and Management Inc. to negotiate the cash transfer/debt relief package.
It is also seeking a declaration that Webster, "defrauded Caribbean Containers Inc.'s inves-tors" as well as an order directing Webster to account for all sums of money received by him as a consequence of the impugned transaction.
The Council further asks for an order directing Webster to make full restitution of all sums received by him arising from the impugned transaction.
According to the claim,  an injunction restraining CCI from paying out any dividends to Demerara Holding Inc. and an account of all dividends paid to Demerara Holdings Inc. between December 31, 2003 and December 31, 2013 are also being sought.
An order directing the restitution by Demerara Holdings Inc. of all sums paid as dividends to Demerara Holding Inc. by CCI and that all sums be credited to the CCI's profit and loss account, is also being sought.
Further the council is asking the court to grant an order that all shares registered to Demerara Holdings Inc. be recalled and cancelled and reissued for subscription at market value as at the date of judgment herein.
Comments

Michael Bhopaul, 16, doesn't know if he is this year's best performer at    the Caribbean Secondary Examination Certificate (CSEC) Examinations, but with preliminary results showing that he has obtained passes in 25 subjects, he will be hard to top.

Inmates at the Lusignan Prison turned over 33 improvised weapons yesterday morning to prison authorities, who say that they also apologised to the prison staff for the unrest at the facility on Friday night.

Well known Berbice attorney Chandra Sohan was arrested on Friday after he allegedly struck a pedestrian in a hit and run accident along the Williamsburg Public Road.

For a little more than an hour yesterday, the streets outside the Mackenzie Market rang with the voices of dozens of Linden residents who turned out to support a march against homosexuality.
The woman killed during the violent storm in Jawalla, Region Seven on Friday, has been identified as a mother of two, who was seven months pregnant.