Fourteen months after the mysterious disappearance of the then 25-year-old Levoy Taljit, his father says hopes of finding him alive are dwindling rapidly owing largely to the failure of police investigators to get more information out of a suspect who told a story which raised many questions.
A distraught Basil (only name) told Stabroek News recently that the suspect told the police that Taljit had given him his bank card to withdraw all of his money from his bank account. However, to date police have failed to get his son's bank records and ATM footage to verify this, and no attempts have been made to access his son's phone records.
Basil said pursuing these leads might have gotten the police a few steps closer to finding his son, but instead he and his family are left with more questions than answers and little hope of getting closure.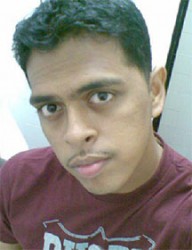 Speaking from his Queenstown home, he said that on December 23, 2012 his son, an employee of the Guyana Energy Agency (GEA) left his home around 2.30 pm and has never been heard from or seen since. He said he did not see when his son left but his daughter did and based on what she said Taljit left with his phone in hand and was not dressed like if he was going out with friends.
The man said it was assumed then that someone might have called him out. He said it was after his mother failed to contact him, that they became worried. Taljit had promised to take his mother shopping that afternoon before he left the house but she was busy and indicated that they would leave when she was finished with what she was doing. The calls continued until after midnight that day and none of his friends knew his whereabouts.
Basil said that early the next morning he went to his son's workplace but was told that he was not on call and was not sent anywhere. Later, he said they went to make a report at the Alberttown Police Station and were sent to the Brickdam Police Station where the report was taken.
According to Basil, the family later received information that Taljit's cellphone was last used along the Linden/Soesdyke Highway in the vicinity of Yarowkabra and that when he had left home, he had gone to a friend's home in Timehri. He said the family had never met this person and never knew he and Taljit were friends.
According to Basil, this information was passed to the police but when ranks went to the man's home, he was not there and a message was left for him to make contact with the police.
He said that some time later while police and relatives were searching in the Yarowkabra area, the friend was spotted on a motorcycle but he fled into the bushes when police chased after him.
He later turned himself in and spent 72 hours in police custody before being released.
Basil told this newspaper that they were later told by a rank that while in custody the man told investigators that Taljit turned up at his home and told him that he had a problem. He claimed Taljit had a bag of money and a bag of clothes and that he was going away. He said that based on what the rank said, the man told investigators that he had taken Taljit's car to the Yarowkabra area on the instructions of Taljit, to hide it.
Basil said they later found the car in that area intact except for its missing tape deck and battery.
"Police said that my son give him his bank card and he withdraw money from his [Taljit's] account," he said while noting that a lot of what the man had said raised more questions than answers.
Basil said that the following week he went to one of the branches of the bank that his son used and after getting no satisfaction from the supervisor went to another branch where a manger told him that only the police can get the answers they were looking for. He said what they wanted from the bank was camera footage from the ATM machine which would confirm the man's story.
He said too that based on what they were told the man also told that police that after Taljit went to his home they went to another location where Taljit got into a "big vehicle with three fat men inside" to go to Suriname. He said the man told the police that the area was dark and as such he was unable to see the vehicle's licence plate or the men's faces.
Basil stressed that he did not believe any of it.
In relation to his son's phone, he said that the family made several attempts to get his telephone records from a local service provider. He said they were told that the information can only be given to the police.
"They [the police] didn't even write to them to get the records," the man said sadly.
He said that after the car was found, it was dusted for fingerprints and lodged at the police station. However, Taljit had not completed his payments for the vehicle and it was later returned to the persons he had entered into the sale agreement with. Basil said the family only became aware that the car was no longer with the police when they saw it being driven on a city street.
He said a call to the Timehri Police Station confirmed that the vehicle had been returned. However, Basil said, the police are yet to return what was found in the car.
He expressed the firm belief that his son's disappearance was somehow connected with his job, adding that the police might be dragging their feet on the investigation because of who might be involved.
He also questioned why his son would drive all the way to Timehri.
Re-arrest the suspect
Basil, during the interview with this newspaper, called on the police to re-arrest the man. He said that after the suspect was released and the family was told what he told police, they questioned why he was not charged either in relation to Taljit's car or the withdrawal of the money from his bank account.
Stressing that he wants the police to find out why his son disappeared, he said the only way to do so is to re-arrest the suspect and question him some more.
He said he was appalled at the police's approach to this case, noting that if they had gotten those phone records and the video footage from the bank, "we could have gotten one step closer at least…the police don't need more than what this boy said."
He said that based on what he was told his son had no issues at work and according to his superiors he showed potential. He said the only aspect of his son's job that he and his wife had an issue with, was the constant travelling. He said that on a few occasions he was away for about a week and constantly travelled to many parts of the country.
Asked what he thought became of his son, Basil said, "I am at a lost." He said that he now questions whether he might be dead. He said he firmly believes that the person initially arrested had a hand in his son's disappearance as what he told the police was puzzling and not consistent with how his son would behave.
"If he was anywhere, don't you think he would have called by now?" he asked rhetorically, adding that relatives constantly shed tears and often wonder if he was being kept against his will somewhere.
According to Basil, "so long time pass. I conclude that they kill him because a lot of things ain't making sense… I want to know if police can't re-arrest [the suspect]. If police put enough pressure on him they could get the relevant information."
He said that he spoke to a few senior policemen, Head of the Presidential Secretariat Dr Roger Luncheon and Chairman of the Police Complaints Authority Cecil Kennard about the matter but hardly made progress. He said that after meeting Dr Luncheon for about three hours some time mid last year a promise was made that the army's intelligence would be contacted for assistance and that he would be contacted later. He said he is still waiting for an update.
With respect to Kennard, he said, a letter was sent to Police Commissioner Leroy Brumell and to this date there has been no response, not even an acknowledgement that it was received.
Comments
An officer from the Child Care and Protection Agency (CCPA) was required to intervene on behalf of three school-aged children in Port Kaituma, North West District after reports were made of them being kept away from school.

The Sheriff Street/Mandela Avenue area is being surveyed in preparation for huge expansion works to be conducted by Chinese company, Sinohydro Corporation Limited.

A man was yesterday arrested after trying to smuggle cigarettes and vodka to a prisoner in the holding cell at the magistrates' courts complex in Georgetown.

The Rotaract Clubs of Guyana will be hosting the 26th annual Rotaract District 7030 Conference in June and the community of Hauraruni, on the Linden-Soesdyke High-way, is expected to benefit from a community project that will be undertaken by both local and visiting rotaractors as well as rotarians and friends of Rotary International.

An accused thief, who police say was caught red-handed during a recent break-in, was yesterday remanded to prison on a charge of breaking and entering and larceny.