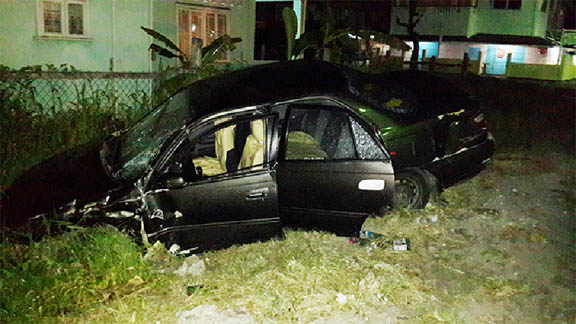 Finance Minister Dr Ashni Singh was around 9 last night involved in an accident with a taxi, leaving both vehicles badly damaged and two persons hurt. The Minister appeared to be unhurt.
"I was coming down this street (West on Garnett Street, Campbellville) and this vehicle was coming out of this road (North on Delph Avenue) and just jump the major road, slam into me sending we into that gutter…the man come out then we see is the finance minister but he ain't even offer help. He just jump into another vehicle and drive off leaving we hay …" driver Jageshwar Hira of HB 7194, told Stabroek News at the scene.
The car's passenger Parbattie Shivcharan recounted that as she sat in the back seat she didn't see the vehicle but felt the impact of Singh's vehicle, Nissan Pathfinder PMM 3860, when it slammed into the car sending them careening into a nearby trench.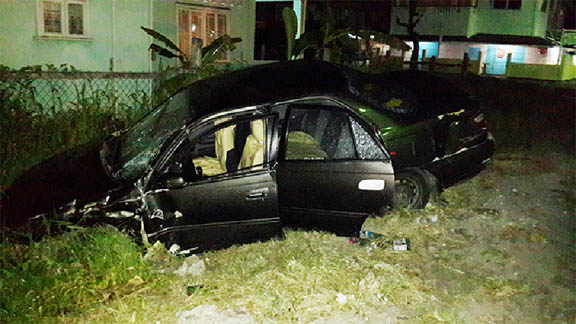 She said that she suffered injuries to her head and complained that her sides were hurting as she lamented that the Finance Minister rendered no assistance. "He didn't offer to take us with him to the hospital nothing at all. He treat we like we is nothing, didn't care if none a we dead nothing," she said.
Stabroek News tried calling Singh's mobile number and twice it was engaged while the other times the calls went unanswered.
The Minister, according to the driver, appeared to be under the influence of alcohol.
Businessman Brian Yong arrived at the scene and offered the driver compensation for his vehicle and to pay for medical bills incurred. The driver said that he wanted to see Yong's promise in "black and white" before agreeing to such.
Police are investigating.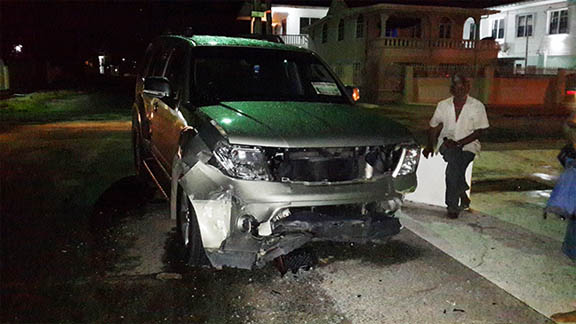 Comments

Dawn Hastings-Williams President David Granger, today, announced that Minister within the Ministry of Communities,  Dawn Hastings-Williams will assume the portfolio of Minister of Public Affairs in the Ministry of the Presidency with effect from September 1, 2017.

President David Granger, earlier today, attended the wedding reception of Minister within the Ministry of Communities with responsibility for Housing, Valerie Patterson- Yearwood and .

Grace Mugabe   JOHANNESBURG,  (Reuters) – South African police confirmed on Wednesday that Zimbabwean first lady Grace Mugabe remained in the country and had applied for diplomatic immunity after being accused of assaulting a 20-year-old model in an upmarket Johannesburg hotel.

Daniel Craig   LONDON, (Reuters) – British actor Daniel Craig has confirmed he will reprise the role of James Bond one last time, ending months of speculation.

UN experts condemn racist violence in U.S., urge investigations GENEVA, (Reuters) – United Nations human rights experts called on the United States today to combat rising racist violence and xenophobia and to prosecute perpetrators of hate crimes.