Karen de Souza of Red Thread is one of three Caribbean laureates of the 2014 Anthony N Sabga Caribbean Awards for Excellence and has been recognized for her work in the area of 'Public and Civil Contributions'.
Contacted yesterday, she told this newspaper: "While I may be the recipient, it's a collective work done by Red thread and other women." De Souza said she felt good that Red Thread's work and the need for such work is recognized.
The other two laureates are Professor Liam Teague, in the area of Arts and Letters and Dr Richard Robertson of St Vincent and the Grenadines in the area of Science and Technology.
De Souza, a women's and children's rights activist is a co-founder of Red Thread, an advocacy organisation which provides service and support, education, and advocacy for victims of rape and domestic and other forms of violence and for the lowest-waged sectors of women.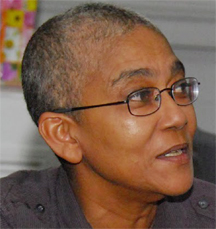 According to information on the Sabga award website, De Souza and Red Thread do research and have contributed to the drafting of laws and training for judicial officers to support protection of women and children and victims of human trafficking. They also participate in national, international and regional agency programmes on areas of interest, as well as taking education directly to the people.
Since co-founding Red Thread in 1986, the website noted, "de Souza has worked tirelessly for the organisation in an entirely voluntary capacity. Her leadership has enabled the provision of services like face-to-face counselling in a drop-in centre for women and children and survivors of rape and abuse, and enabled the rescue of victims of domestic violence." It also noted that Red Thread members participate in court proceedings, legislative initiatives and international conferences on women's and children's welfare.
De Souza's recognition by the Anthony N Sabga Caribbean Awards for Excellence follows those of Guyanese George Simon (2012, Arts & Letters), Professor David Dabydeen (2008 Arts & Letters) and Annette Arjoon (2008 Public & Civic Contributions).
Two years ago, the US Embassy in Guyana had nominated de Souza for the International Women of Courage Award hosted annually by the US State Department. Although she did not go on to win that award, her nomination provided a boost for the work of Red Thread.
According to the website, the Anthony N Sabga Caribbean Awards for Excellence were introduced by Dr Anthony N Sabga, founder and Chairman Emeritus of the Ansa McAL Group of Companies in the Republic of Trinidad and Tobago.
It is the English-speaking Caribbean's leading recognition programme in Arts, Sciences, and Public and Civic Work. The Ansa McAL Foundation launched the awards programme in October 2005.
Up to 2010, the awards were made biennially but in 2011 the Caribbean Awards for Excellence became an annual event.
The goal of the awards is to recognise significant Caribbean achievement, to encourage and to support the pursuit of excellence by Caribbean people, for the benefit of the region.
The programme is privately funded, free of political and other influence, and offers tangible, significant benefit to the laureates. It is the most noteworthy philanthropic initiative by a Caribbean organisation in recent times, the website noted.
Comments

Wijeyadasa Rajapakshe   COLOMBO, (Reuters) – Sri Lankan President Maithripala Sirisena today sacked the justice minister over his criticism of a $1.1 billion deal, signed last month, to lease a port to a Chinese company, the cabinet spokesman said.

NEW YORK,  (Reuters) – Two Harvard University researchers said in a study published today they had collected scientific data proving Exxon Mobil Corp made "explicit factual misrepresentations" in newspaper ads it purchased to convey its views on the oil industry and climate science.

In the wake of rising bad loans and a massive alleged fraud against it this year, the Guyana Bank for Trade and Industry (GBTI) has posted an unaudited net after tax profit of $603m for the first six months of this year compared to $961m in the same period for 2016.

Vamanadev Hiralall, of the privately-run Saraswati Vidya Niketan (SVN), is the country's top performer at this year's Caribbean Advanced Proficiency Examinations (CAPE) after achieving an accumulated 13 grade one and 3 grade two passes.

Twenty-six students in the top one percent of the 12,684 who sat this year's Caribbean Secondary Education Certification (CSEC) examinations earned 12 or more Grade I passes, with half of them, including the top performer, coming from Queen's College (QC).