By Jeff Trotman
Guyana has much to be proud about, Presidential Advisor, Gail Teixeira said in her feature address at the flag raising ceremony in Linden on Saturday to commemorate Guyana's 44th anniversary as a Republic.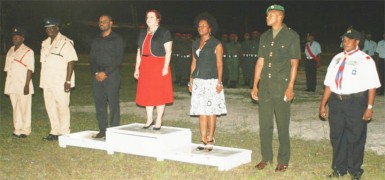 In emphasizing how well Guyana has done ,  Teixeira said: "We were put on the world map in 2008/2009 with the low carbon development strategy, which was unique and innovative …." She also highlighted that Guyana has had consistently high economic growth over the last seven years – unlike the rest of the Caribbean and Latin America – that is recognized by the rest of the world.
In bringing greetings to Region Ten on behalf of President Donald Ramotar and the government, Teixeira said there is much to celebrate and account. "We have gone through good times and bad times, ugly times, violent times, bloody times and obviously, we have much to celebrate and we have many challenges as we celebrate our 44th anniversary. Guyana is a young democratic nation with a small population of 708,000 people living in a land mass that is the size of the United Kingdom including Scotland, Ireland and Wales – and they have 70M …." Contending that Guyana has one of the most progressive constitutions in the world, the Government's Chief Whip highlighted that when this nation became a Republic in 1970 by an Act of Parliament, it adopted a constitution that is a mixture of the Westminster of England and some aspects of the constitutions of some Latin American countries.
Noting that Guyana is a multi ethnic society and multi religious society, including religions other than Christianity, Islam and Hinduism such as Bahai, Kali and ancient African religions Teixeira asked: "How do we use this fact that we are mixed and different … as a positive force?"
Teixeira began her address by quoting the last stanza of the National Anthem and said we sometimes mouth words but this is our country, the land of our ancestors as well as current and future Guyanese. She said that she would not be tempted to speak as a politician on the occasion but she feels that there are places that are more appropriate for political talk because much had been said earlier that she could counter.
Pointing to the manner in which differences should be bridged, she asked: "Do we resolve our differences peacefully by dialogue, or do we resolve our differences violently? Do we treat each other with respect? Do we treat each other as equals across the table in dialogue?"
"We have much to be proud but we have many challenges to be faced as a people. We will have to deal with power generation. We will have to deal with electricity and these are two major issues: hydro power and connectivity,"  Teixeira said as she pointed to the need for the installation of a fibre optic cable to allow ready access to services and faster means of communication.
She said Guyana tends to look to northern countries such Canada, the United States, Britain and Europe, but the time has come for the country to increase its linkages with Latin America and the Caribbean. In this regard, Guyana is engaging Brazil with respect to road construction, hydropower and a number of other areas for  development of the country.
Among other positives, the Advisor to the President said 58% of the Guyana population is less than 35 years old and Guyana is the only country in the world that has given land titles to its indigenous population. She added: "We are ranked 25th in the world for women being in Parliament and 19th in the world for women in Cabinet."
Turning specifically to development for Linden, the veteran government official said the reconstitution of the Linden Enterprise Network Board would facilitate micro credit "so that businesses can grow".
In response to a heckle of "we need jobs" from the audience of barely 400 people,"  Teixeira said: "It is not only about jobs. It's about working for yourself and becoming your own boss."
She said the country is at a serious crossroad as the country celebrates its 44th anniversary as a Republic. According to her the difficulty lies in the challenges being posed to the government's effort to pass the anti-money laundering  bill in Parliament in a timely manner. The disclosure brought shouts of "we don't want hear that" and "we want jobs" from the audience, which prompted the government official to say: "We as a people cannot talk from the two sides of our mouth. We cannot talk about Guyana and be uncaring about things that hurt our nation."
Comments

Defeat Tallawahs by 37 runs Chris Gayle, playing in his 50th CPL match, produced his 63rd T20 fifty as St Kitts & Nevis Patriots cruised past Jamaica Tallawahs by 37 runs to guarantee a place in the playoffs for the first time in their three-year history.

The Guyana Football Federation (GFF) has officially selected the Boys and Girls teams which will represent the nation at the Inter-Guiana Games (IGG) Goodwill Series scheduled for Suriname from the August 25th– 27th.

The Commission of Inquiry (CoI) into African ancestral land ownership began hearings yesterday with a significant portion of the first day's proceedings being dedicated to questions pertaining to the allocation of lots in the controversial 'Pradoville 2' Housing Scheme.

For another year, the opening of the National Toshaos Council (NTC) Conference was dominated by concerns about land rights, with Chairman Joel Fredericks yesterday calling out the APNU+AFC government for making decisions that affect land ownership without first seeking the Free, Prior and Informed Consent (FPIC) of affected Indigenous groups.