Regional Chairman Gordon Bradford has cautioned Region Seven residents against depending solely on mining for its economic stability and suggested that resources be put into tourism.
He was delivering an address at the Flag Raising Ceremony held to usher in Guyana's 44th Republic Anniversary on Saturday evening.
Bradford said the region saw firsthand the dangers of depending on mining in 2013 and suggested that some focus be put on tourism, according to a report from the Government Information Agency (GINA).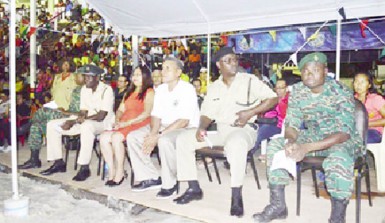 "We need to work assiduously to take care of our beaches, flora, fauna and other attractions for tourists, join hands together and work and realise this dream," he said. In keeping with this, Bradford pointed out that steps must be taken to effect proper solid waste management to realise the dream of a clean and beautiful Bartica and Region Seven. Work towards operating a landfill facility started last year.
Bradford also said the region had achieved some of the plans in its work programme from its 2013 budgetary allocation, including the complete expansion of the Kamarang Hospital, the construction of the Nurses' Hostel at Kamarang, and the extension of the Bartica hospital. Work also started on the construction of two new schools; one at 72 Miles and the other at Itaballi Landing.
Meanwhile, Amerindian Affairs Minister Pauline Sukhai charged Region Seven residents to cooperate to develop their region and the nation. She said that the Republic anniversary was a fitting time to pay homage to forebears who fought for the freedoms Guyanese enjoy today, as well as to encourage the current generation to build on those foundations for a stronger nation for the future.
"Indeed Guyana today we enjoy a diversity of ethnic people, we enjoy a diversity of culture, we enjoy a diversity of resources, and indeed it is these important factors that we should be reminded of, that as a people we should remain strong, we should remain focused, we should remain as a united force," she said. "Today Guyana had developed; Guyana has transitioned, and has also transformed, in a way those in the past would not have dreamt of. We have done quite a lot as a nation, but we have much more to do, and therefore I encourage all of you to remain steadfast, to be patriotic, to ensure that you commit yourself, to dedicate to put forward your best initiative so that Guyana will remain in the forefront of many of the developing countries, that Guyana will stand out as a model from which others can look towards as we generate and establish many good practices in this country."
Sukhai also spoke of the resourcefulness of the people and urged them to collaborate on the gains accomplished in order to add to the stability of the nation. She said government recognises that youth are the nation's future and as such it has focused on education and has established training opportunities for them. Guyana has also taken a leadership role on safeguarding the environment with its Low Carbon Development Strategy, she pointed out.
According to GINA, the Flag Raising Ceremony also featured a number of cultural displays. Delegates in the Bartica Regatta pageant set for April, also attended the event.
Comments

Tourism Minister Shamfa Cudjoe announced the decision to close the company. (Trinidad Express) The Tourism Development Company (TDC) has ceased operations.

Cevons clearing city garbage WPA STATEMENT ON THE UNRESOLVED ISSUE OF GARBAGE COLLECTION IN THE GEORGETOWN MUNICIPALITY The WPA is deeply concerned that the Georgetown City Council's inability to honour its financial obligations to Cevons Waste Management and Puran Brothers has the potential of endangering the health and lives of citizens.
British High Commissioner to Guyana Greg  Quinn  yesterday said that it was hoped that more would have been done to push the constitutional reform process forward.

A West Coast Berbice man died after he reportedly set his one-storey house ablaze sometime around 11.20 am yesterday.

A Yarrowkabra miner was yesterday charged with the murder of a co-worker, whom he allegedly beat to death during an alcohol-fuelled clash last Saturday at a dredge site in the Potaro Backdam.