The Environmental Community Health Organisation (ECHO) launched its 'Most Improved School Yard' Competition with a tree planting exercise at the Vreed-en-Hoop Primary School on Wednesday.
Region Three Chairman Julius Faerber, Assistant Chief Education Officer Marcel Huston and PAHO/WHO Representative Adrianus Vlugman attended the opening of the competition which will be run over a period of six weeks.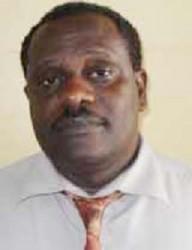 According to a press release, the main objectives of the exercise are to raise awareness about environmental issues among 300 children in 20 schools; to improve the physical conditions in these schools and to reduce litter by 30% in the said schools.
In his opening remarks, the regional chairman welcomed the initiative and encouraged the children to treat their surroundings with respect. He also underscored the importance of inculcating good environmental practices in children from a tender age. Faerber pointed out that more awareness is needed in local communities.
In his speech, Vlugman said children need to be encouraged to pay careful attention to the environment and public health. He also opined that they should be eating healthier foods and participating in more sporting activities.
Executive Director of ECHO Royston King said over the years the Education Ministry, the RDC and PAHO/WHO have always supported the organisation's efforts. This has led to better networking among schools for participation in the exercise countrywide. He also opined that all schools should participate in the tree planting exercise.
King said ECHO's mission is to increase the eco-consciousness and social responsibility of its 35-strong members by providing them with access to the natural world, state-of-the-art social media, innovative educational programmes and resources. Through diverse partnerships, the group aims to hone the skills and talents of the next generation of leaders with the knowledge and passion to promote and work towards environmental sustainability.
Comments

A section of the Kitty Public Road is to be closed from Wednesday as the Ministry of Public Infrastructure steps up road works in the area.

Anil Nandlall Former Attorney General Anil Nandlall today rejected an explanation by Minister of State, Joseph Harmon over the government's directive to the Police Service Commission to halt promotions.

The improvised weapons (Prisons photo) Prison Staff this morning with the support of the members of the other services, reported for duty at the new holding area lusignan Prison.

Nicolas Maduro CARACAS/LIMA, (Reuters) – A group of 12 regional nations plus the United States rejected Venezuela's new government-allied legislative superbody, saying they would continue to regard the opposition-controlled congress as the country's only legitimate law maker.

Eighteen prisoners at the Lusignan penitentiary were being treated for injuries last night following a reported attempt to kill a fellow inmate during which warders fired shots.