Donations made to differently-abled groups
The Ministry of Labour, Human Services and Social Security on Friday presented monetary assistance to two organisations for the differently-abled from the National Disability Fund for Development Programme.
According to GINA, the Deaf Association of Guyana (DAG) received $1.5 million towards its project for 'Skills development and income generation through shade house farming'. This project is intended to train teachers and deaf youths at three special needs schools in shade house farming and how to effectively manage such enterprises.
The Ruimveldt Parent Support Group (RPSG) also received a donation of $555,664 for a block making/laying project for youths who are hearing impaired, deaf, and physically disabled or have Down's syndrome and other developmental disabilities.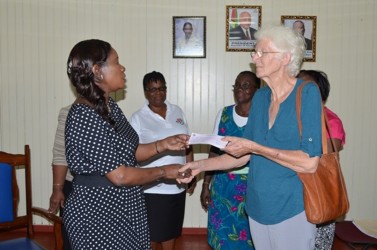 According to GINA, the idea is to create employment for the participants, who will undertake the project with the support of their parents and care givers.
The beneficiaries are hoping to set up a small business enterprise in the North Ruimveldt community to generate income.
GINA said that a donation of $1,639,970 is to be made to another group, the Wismar Baptist Church Sign Language Group towards their Able Hands project.
The cheque will assist them with funding for a cottage industry/micro enterprise.