Residents of Canal Number 2 Polder, West Bank Demerara are complaining that a loam road, which runs parallel to the village access road, is on the verge of collapse after contractors ceased works nearly two years ago.
Villagers who live along the muddy loam road described it as "sand storm" in the dry season and a slushy muddy dam in the rainy season. They said they preferred the old dam they had before Ministry of Public Works contractors started to build a new road.
"This road ain't built for people. It build for tractors and trucks. It's really deh bad but if they de pitch the road it would have been better but you see when the rain fall here we have to take off our slippers and walk it. Your ankle would be covered in mud," said a woman named Mohan.
Mohan said, "People need to come when the rain fall and see what happen. People nah squat here. We does pay tax like everyone else."

Public Works Minister Robeson Benn on Saturday told Stabroek News that he was unaware of the issue but noted that the project may have been stalled because of a shortage in the supply of stone. He said there were several projects that were delayed because of the scarcity.
In September 2013, the government had announced that there was a national shortage of stone and stated that one of the indicators was a hike in stone prices. However, this claim was rejected by the Managing Director of BK International, Brian Tiwari—who at that time stated that the President was badly informed.  He opined that there was no need for importation because BK international was producing approximately 30,000 tonnes of stone daily.
According to Mohan, the road works commenced two years ago but were suddenly halted. She said potholes soon morphed into craters and this forced villagers to patch them with mud. She added that on sunny days residents would have to soak the road to prevent the dust from dirtying their clothes and houses. Persons with asthma, she noted, are also in jeopardy as a result of the "thickness" of the dust.
"When it gets bad, it gets really bad," she said, before pleading for the relevant authorities to build a better road.
Rajkumar (the only name given) said he preferred using the road on hot days because it was easier to traverse through the potholes in his vehicle. "But when the rain fall we in trouble because all the red loam on the road would wash away and we get left with potholes. The red loam ain't making sense…they come and just throw loam and gan their way and we ga take plastic bags and wrap it around our foot and walk in the mud," he said.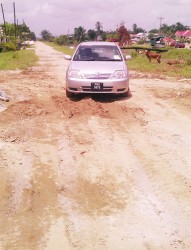 He stated that the government always claims that it is building roads but these roads only last two to three months before residents are left to walk in craters. He added that at night, it is hard to see potholes because there are no street lights. "We can't get to see where we going, to see if we gon drop in a pothole. These people ain't doing nothing for our community…right through the road bruk up," he said.
An elderly woman who lives about two miles into the road recounted falling into a big pothole one night. "The road is get very bad when it rain and one night I was coming home from the Mandir while the rain was falling and I fell in a hole that was full of water. It dirty up all my dress. It was a big hole too, not no small one," the 74 year-old said.
One man said contractors from the ministry visited the area late last year after complaints were made to the ministry but they merely filled the potholes up with more dirt and left. "The government ain't doing anything for us. We have to go and fill the holes ourselves. The only thing they doing is clean the canal," Rupnarine Shivnarine told Stabroek News, while expressing disappointment at the inability of the authorities to provide good quality roads.
He stated that field trucks which traversed the area daily caused more damage to the road. "This is no road they build here. They just dig it out and dash sand and loam on it and call it that. When the rain fall, my neighbour can't pass with their vehicle because the hole is so big. So, we would have to full up the ones in front of us and it's not good for people cars and in the night," he said.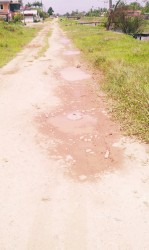 "These people are wasting taxpayers' money because before they build this it was better. It was a mud dam but we could drive through it. All we are saying is that they have to do something better. They can't just make something and leave it."
Sewkumar Baran said villagers could not afford to keep a vehicle because every week they had to purchase new parts owing to damage caused when traversing the road. "I'm living here a year and a half and I have two vehicle and I could tell you that every week I have to fix something on my car. When the rain fall, it is impossible to pass through some of those holes," he said.
"And when you walk the mud would be till up your ankle. People who does sell stuff and come through the canal would refuse to come over this side and we don't blame them. Last year, we call Sharma and he come and video the place and then they come and fix the road but two weeks after they fix the potholes it get back to the same and the bridges to the main road is far apart, so we have no choice but to use this road," he stated.
"It makes you feel like an idiot because our taxes going in their pockets. The work they did last year literally lasted an hour," he said.
Comments

Several candidates recorded outstanding performances at this year's Caribbean Advanced Proficiency Examination (CAPE).

 Geometric improvements will be carried out on the East Coast Railway Embankment Road come September for smoother traffic flow.
Swift action by the Law Enforcement and Investigation Division (LEID) of the Guyana Revenue Authority (GRA) aided in the removal of a large quantity of seized foreign chicken from two separate cold storage facilities in the Berbice area after it was discovered that the commodities were unlawfully being disposed of, the GRA said today.

Farha Faiz, a lawyer, speaks with the media after a verdict for the controversial Muslim quick divorce law outside the Supreme Court in New Delhi, India August 22, 2017.  

Defeat Tallawahs by 37 runs Chris Gayle, playing in his 50th CPL match, produced his 63rd T20 fifty as St Kitts & Nevis Patriots cruised past Jamaica Tallawahs by 37 runs to guarantee a place in the playoffs for the first time in their three-year history.