The screams of a terrified young girl pierced the early morning silence of Goed Fortuin, West Bank Demerara as she witnessed the brutal stabbing of her mother by her father, who subsequently hanged himself.
Tamika Miller, 29, of 18 Goed Fortuin was stabbed 27 times in front of her eight-year-old daughter by her husband, 32-year-old Andrew Patterson. The man was later found hanging in the backyard of a stranger's home in Versailles, with both wrists slit and the knife close by his suspended body.
According to Miller's relatives, Patterson had begun visiting the home again after the woman's brother left last week for the interior.
Terrencia Kayla Patterson had been awake when her parents began to argue around 1.30 am. Her mother had been trying to get the man out of the home, stating that it was the last time that he would be entering the house.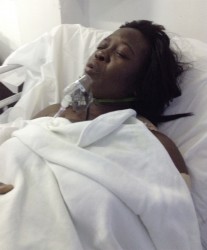 Kayla explained that her father had grabbed his hat and things and made to leave. However, instead of leaving he turned and grabbed a knife then dealt a stab to Miller's chest.
In her bed at the Georgetown Public Hospital (GPH), a distressed Miller explained that she was shocked when her husband stabbed her. "After he stab me he tell me how, 'now look wha you mek me do. Is best I finish you and done.'" a crying Miller said.
The wounded woman explained that she had run outside calling for help but no one went to her aid. Though the tyre shop opposite Miller's home had security, the guard was of no aid because the owners of the business had locked him inside for added security.
Miller was instead left to the mercy of Patterson who dealt her several more stabs as she lay in front of the business. The woman said she had been lying on her back but she turned over to be stabbed in the back instead, knowing that repeated stabbing to her chest and stomach would surely kill her. As he continually stabbed her, she said, the man cried, "I love you, I love you!"
After excruciating minutes, the man left the scene. However, before he did, he warned his daughter not to tell anyone what had happened or he would kill her. By that time, neighbours had been alerted by the screams of "Stop it, Daddy!" coming from young Kayla. The neighbours took Miller to the West Demerara Regional Hospital (WDRH). She was later transferred to the GPH after the Harbour Bridge reopened at 5 am.
According to a report from the registered medical practitioner at the WDRH seen by this publication, Miller sustained more than 20 stab wounds in her chest, lumbar spine, cervical region and both hands, deep with active bleeding and a diagnostic of left pneumothorax (air in lungs).
However, while Miller was being rushed to the hospital, Patterson had already reached his parents' home in Goed Fortuin Housing Scheme.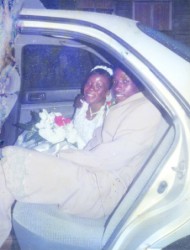 According to his mother Thelma Patterson, she was asleep when she heard a commotion and got up to investigate. Outside, she found her husband who informed her that their son had been there with a knife and had placed it against his own chest, threatening to kill himself. However, the older man had convinced him not to and he had run away. The couple searched the yard for their son but to no avail.
Thelma said that, shortly after, she received a call about Miller being stabbed and rushed to the WDRH. She arrived just in time to accompany the injured woman and her family to the GPH.
She had just reached GPH, she said, when she was called and informed that her son had killed himself. In shock, the woman denied the claims until she received later confirmation from her daughter.
When Stabroek News visited the site of the suicide, blood could be seen at the base of a trestle holding up a water tank. The man, who had apparently cut a clothesline and made a noose out of it, had been found by a female occupant of the home. However, residents of that house were unavailable for comment.
This publication was informed that Patterson would have had to trek through the Goed Fortuin dams in the dark, cross two trenches, and jump the fence into the yard where he was found.
According to his mother, she had tried on multiple occasions to advise her son, who had three siblings including a twin sister. She stated that she was a Jehovah's Witness and had often encouraged him to turn to the Lord with his problems. However, the words had landed on deaf ears. "He was taking on like he was the first man who had a woman leff him," she wept. She revealed that, as a child, her son had always been moody, quiet and reserved.
Miller's family said that the couple had been married eight years ago at the insistence of Miller's now deceased mother. According to Miller's aunt Juliet McRae, her niece was pregnant and she was encouraged to marry Patterson and live as husband and wife. Kayla was born only a few days after the couple's wedding.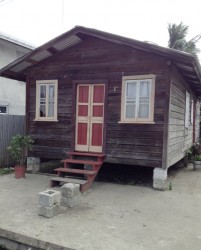 However, the relationship had been rife with problems. Miller related that she had lived with Patterson and his family until recently when she left him owing to his constant drinking, smoking and gambling. Though they would often have misunderstandings, she said, there were few physical altercations.
This publication was informed that two restraining orders had been made against Patterson. The latest one, McRae said, had been in October 2013. The man had even assaulted Miller's family members, McRae added.
According to neighbours, Patterson had been seen earlier in the day watching Miller go about her daily routine while he drank at a nearby barbershop.
Relatives of both Patterson and Miller said that she had, on several occasions, attempted to salvage the relationship. The woman had even laid down an ultimatum that if he got his act together, he would be allowed to spend more time with his daughter.
However, the man's behaviour had become overbearing. Though he was gainfully employed at the Guyana Power and Light Company in Vreed-en-Hoop, Miller's sister Dionne James pointed out that he would make no real contribution to his wife and daughter.
"He would smoke out he money then would ask Mommy for money fuh go to work," Kayla piped in following her aunt's statements.
Despite past misunderstandings, Miller insisted that she had not been fearful for her life and had not expected that Patterson would've done such a thing.
She added that Patterson had only been to her home to discuss their child with her. She stated that earlier in day before the incident, she had sent her daughter to visit him but he had sent the girl back home. He had then shown up at the house.
Until Mashramani Day, Miller worked at the popular Seeta's Bar in Station Street, Kitty. However, she had left the job and had been selling fish and chips in front of her home. According to her, the very knife she used to cut the fish was the knife Patterson stabbed her with.
At the scene of the gruesome attack, neighbours were heard yesterday afternoon lamenting the fact that Patterson had attacked his wife. "If a woman ain't want ya, she ain't want ya!" one man angrily exclaimed.
Kayla's teachers went to the homes of both Patterson and Miller to check up on the child and to express their sympathy at the incident.
Miller was checked into the GPH at 6.29 am yesterday and when she spoke with this newspaper in the afternoon she said that she had not lost consciousness until she arrived at the hospital. Though she maintained that she was not in great pain, she still had difficulty with speech.
Miller's family believe that the man killed himself because he believed he had killed his wife.
Comments

Michael Bhopaul, 16, doesn't know if he is this year's best performer at    the Caribbean Secondary Examination Certificate (CSEC) Examinations, but with preliminary results showing that he has obtained passes in 25 subjects, he will be hard to top.

Inmates at the Lusignan Prison turned over 33 improvised weapons yesterday morning to prison authorities, who say that they also apologised to the prison staff for the unrest at the facility on Friday night.

Well known Berbice attorney Chandra Sohan was arrested on Friday after he allegedly struck a pedestrian in a hit and run accident along the Williamsburg Public Road.

For a little more than an hour yesterday, the streets outside the Mackenzie Market rang with the voices of dozens of Linden residents who turned out to support a march against homosexuality.
The woman killed during the violent storm in Jawalla, Region Seven on Friday, has been identified as a mother of two, who was seven months pregnant.