Godfrey Stewart was yesterday sentenced to 18 years imprisonment for killing his reputed wife four years ago.
Stewart, called 'Dougla' had been charged with the murder of Jacqueline George, a newspaper vendor, after her bound body was found in her 120 'E' Field Sophia home between March 13 and 14, 2010. The home had been set on fire.
On February 14, Stewart pleaded guilty to the lesser count of manslaughter and this was accepted. The defence then applied for a probation report and sentencing was deferred.
Stewart had killed George sometime before the March 13/14 fire and subsequently went into hiding.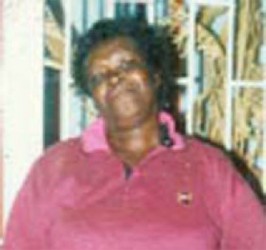 Days later, he turned himself over to the police displaying three stab wounds which he claimed were inflicted by George during a fight, shortly before she was killed. He was then admitted to the Georgetown Public Hospital.
Senior Probation Officer Colleen Anthony from the Ministry of Human Services read a probation report on Stewart to the court presided over by Justice Franklyn Holder.
Attorneys Bettina Glasford, Brandon Glasford, and Maxwell McKay appeared for the accused, while Senior State Counsel Judith Gildharie-Mursalin presented the state's case.
Comments

A jet plane flies by the total solar eclipse in Guernsey, Wyoming U.S.

Superstar opener Chris Gayle … returns to the West Indies side for the first time in over two years.

The Church Street hotel and casino Hotelier Clifton Bacchus today filed a $2 billion lawsuit against the state-owned Guyana Chronicle newspaper following its publication of two recent articles which he has described as "highly defamatory." Guyana National Newspapers Limited, which is the publisher of the Guyana Chronicle, and the editor of the Guyana Chronicle were listed as the defendants in the suit, which was filed by a team of lawyers headed by former Attorney-General Anil Nandlall.

LONDON, (Reuters) – The gradual decline of West Indian cricket is hardly a new phenomenon but the latest capitulation of a once-dominant test match power has brought genuine expressions of sadness throughout the sport.

Eleven residents of the juvenile correctional centre at Onderneeming on the Essequibo Coast were apprehended between yesterday and this morning.