The prime minister's son was yesterday granted bail after he was charged with assaulting and threatening his sister-in-law.
It is alleged that on February 27, Samuel Hinds Jnr, 33, of Lot 83 Duke Street, Kingston beat his sister-in-law with a cane and threatened her with a gun. The court was told that during the incident that occurred at Lot 83 Duke Street, Hinds called Tenza Lane a thief, threw her to the ground, stamped her in the face and dragged her by her hair around the house. According to Police Prosecutor Renetta Bentham, during the assault Hinds also brandished his licensed firearm and beat the woman with a cane.
Lane, who was not in court, was also charged with assaulting Hinds causing actual bodily harm.
Hinds, who showed up at approximately 90 minutes after his case was called, at the Georgetown Magistrates' Courts, pleaded not guilty.
The prosecutor urged to court not to grant Hinds bail on the grounds that Hinds and Lane live at the same address. She said the defendant threatened to kill the woman, never lodged his firearm at any police station and is a danger to the victim. The prosecutor added that Hinds is a danger to Lane and that a medical certificate was issued by doctors in her favour.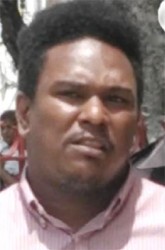 Charles Ramson Jnr, Hinds' attorney, told the court that it was his client who was attacked by Layne following an argument. Ramson said Lane went to the kitchen to retrieve a knife and threatened to use it on Hinds, in the presence of her sister, Sonia Herbert (Hinds' partner). Ramson said Hinds, who is a licensed firearm holder, felt threatened and therefore pulled out his weapon. However, the attorney said, his client did not crank the gun. He further stated that his client's late appearance in court was because he was advised by a senior police officer to go to the police station before turning up at the court.
Ramson said Hinds who holds strong ties to the community, is the son of a prominent functionary and a Queen's College old boy. He further informed the court that Hinds no longer resided at the Duke Street address, though he admitted that prior to the altercation both Hinds and Lane lived there. He further opined that there was no potential risk of further altercations and that the offence was a bailable one.
Continuing his petition for bail, Ramson said his client is prepared to lodge his firearm and passport and report to the police, if the court would oblige.
Magistrate Geeta Chandan-Edmond, after sorting out where Hinds would reside if he was granted bail, placed him on $150,000 bail with conditions attached. These are that he lodge his passport with the police, stay 200 yards away from Lane and all other witnesses in the matter, accept a bond to keep the peace and report to the Brickdam Police Station every Friday pending trial.
The magistrate also issued a summons for Lane.
The case was then adjourned until March 21.
Comments

Legal Advisor to the Police, retired Justice of Appeal, Claudette Singh yesterday testified that there was insufficient evidence in the allegation made by Andriff Gillard of an alleged plot to assassinate President David Granger.

Today at 2 pm the 30 councillors of the Georgetown City Council will once again cast a vote on the future of metered parking in the city and several of them have told Stabroek News that they want to be sure their vote accurately represents a mandate from residents.

Crime Chief Wendell Blanhum yesterday made a written request to be recalled before the Commission of Inquiry (CoI) investigating the allegation of a plot to kill the President of Guyana to defend himself against "appalling" statements made by Assistant Commissioner of Police David Ramnarine.

Two men were yesterday remanded to prison by a city magistrate after they were charged with the fatal stabbing of Rawle Rodrigues which occurred in January.

Amid accusations that he has improperly tried to direct a constitutional commission, President David Granger said he had asked for a delay in police promotions to address complaints that have been made against law enforcers.