A mini-bus conductor was remanded to prison yesterday after he was arraigned for the almost three-year-old murder of elderly Robb Street pharmacist, Harold Rachpaul.
It is alleged that Orin Kevin Roberts, of Lot 3 'C' Field Sophia, sometime between the 18th and 19th August, 2011, murdered Rachpaul, 84, of 75 Robb Street, Lacy-town, in the midst of burgling his home.
Attorney Adrian Thompson represented Roberts, who was not required to plead when he appeared before Chief Magistrate Priya Sewnarine-Beharry in the George-town Magistrates' Court 1 to be arraigned for the capital offence.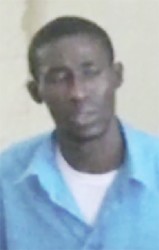 Prosecutor Michael Grant told the court that the defendant was apprehended as a result of the use of  new technology by the police force. Grant was referring to the recently acquired Automated Fingerprint Identification System, which was reportedly used to match a fingerprint found at the scene of the crime with that of Roberts from the police force database. After the match was made, Roberts was detained last Wednesday.
Rachpaul was found dead at his residence, located behind the Rachpaul's Drugstore on Robb Street, by his son Leonard and grandson, Vincent, when they had arrived to open the drugstore at approximately 8am.
The deceased's son had told Stabroek News that he discovered his father's body wrapped in two sheets. Rachpaul's hands were tied in front of him and he was also gagged. A post-mortem examination later determined that Rachpaul had died of asphyxiation.
Police had initially sought Ryan Kissoon, called 'Dhal Belly,' in connection with the murder. He was arrested last September but he was subsequently released on bail.
The case was adjourned until March 24, when it will be called for report.
Comments

The NOC compound (SN file photo) Eleven residents of the juvenile correctional centre at Onderneeming on the Essequibo Coast were apprehended between yesterday and this morning.

With growing pressure on the government over the overcrowding of jails, MP Michael Carrington is confident that the parliamentary bill in his name to ease penalties on marijuana use will gain the support of the governing APNU+AFC benches of which he is a member.
The National Toshaos Council (NTC) is to begin its conference today and high on the agenda will likely be ongoing concerns about the lands commission of inquiry (CoI) which the government has convened.
A Trinidad-based medical products company has secured four contracts worth $135.4m. According to the Ministry of the Presidency (MotP), Cabinet at its meeting on August 15,2017 noted the award of 16 multi-million-dollar contracts.

The police on Friday evening discovered an AK-47 assault rifle and a quantity of ammunition in a haversack at Kingston, Georgetown.