Jermaine Joel, who admitted to dumping garbage along a city street and later fleeing from a constable who tried to arrest him, will be spending the next two years behind prison walls for his crimes.
Joel, who told Magistrate Geeta Chandan-Edmond that he had no fixed residence, pleaded guilty to charges of dumping and escaping lawful custody.
He accepted the City Constabulary's case that he, on February 26, threw a quantity of Styrofoam and carton boxes, on Church Street, Georgetown. Joel also agreed that he ran away from a city constable on February 28, in the vicinity of the High Court.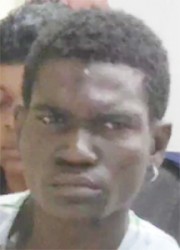 Prosecutor James Garnett told the court that Joel was caught walking along Cummings Street, on March 2, at 7:45 pm and he was re-arrested and brought before the court again.
The magistrate, after hearing that Joel served six months in jail for a simple larceny charge, sentenced him to two years in jail for escaping lawful custody and fined him $15,000 for depositing waste.
Comments

Following an outreach in Lethem today, President David Granger (centre at left side of table) held a  high-level security meeting with a number of officials including Guyana Defence Force Chief of Staff, Brigadier Patrick West (third from right on right side of table) and British security sector reform advisor Russell Combe (second from right on right side of table) among others.

The Guyana Power and Light (GPL) says that just after midday today, three armed bandits stormed its Parika Customer Service Centre; robbing the location of all revenues received up until that time, holding the  staff and customers at gun point and disarming a security guard of a gun.

The Management of Cheddi Jagan International Airport Corporation (CJIAC) is currently undertaking a massive expansion project  and a Temporary Arrivals Terminal Building was recently constructed.

Tourism Minister Shamfa Cudjoe announced the decision to close the company. (Trinidad Express) The Tourism Development Company (TDC) has ceased operations.

Cevons clearing city garbage WPA STATEMENT ON THE UNRESOLVED ISSUE OF GARBAGE COLLECTION IN THE GEORGETOWN MUNICIPALITY The WPA is deeply concerned that the Georgetown City Council's inability to honour its financial obligations to Cevons Waste Management and Puran Brothers has the potential of endangering the health and lives of citizens.