Boy, 14, found dead on Foulis road
The body of a 14-year-old boy was discovered on a street at Foulis, East Coast Demerara yesterday and it is believed that he was the victim of a vehicular accident.
The boy, identified only as 'Andy' by his aunt, Ramrattie Ronie, was found at about 6:30am, according to the police, who are investigating his death.
Contacted yesterday Crime Chief Seelall Persaud told Stabroek News that the child might have been the victim of a traffic accident. He said that investigators have gathered that he moved out of the house and would usually sleep under a truck.
Persaud told this newspaper that there were tyre marks on the child's body. Up to when this newspaper spoke to Persaud yesterday afternoon, he said that driver had not been found.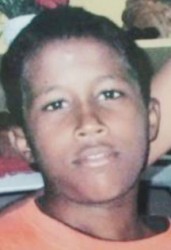 Ronie said she last saw her nephew on Tuesday afternoon. "He come by me and ask me if me ah feel good," the woman said.
She said that the teen had moved out of her 726 Foulis home in early January to live with a friend. "He move out the week after New Year's with another young boy and the two went in Beterverwagting by one of me aunt," she stated.
Asked if the teen had any problems at home, the woman said no, although she added that he started to follow bad company. "He had no problem here. He start follow friends and start smoke and drink," Ronie said, before adding that the teen's mother died when he was only a few years old and that his father resides in Tortola. The boy is also survived by two siblings.
Ronie said that she did not know how her nephew met his death. "This morning I hear some lil boy dead and deh on the road and when I go I see is he. Me nah know how he dead, me nah check he body to see wah happen," the woman said.
Most Read This Week