A businessman was fined $20,000 by a city magistrate yesterday after he admitted to verbally abusing and threatening alleged police rape victim Colwyn Harding.
Silvanus Jasper, 21, admitted that on February 26, at Princes and Adelaide streets, Charlestown, he used abusive language on Harding and acted in a threatening manner.
Jonas Codett, Jasper's lawyer, told the court that his client became irritated that goods meant to be transported to Matthew's Ridge, where his family conducts business, were stolen. He added that Jasper got word that Harding was involved. That, he said, caused the defendant to approach Harding, who was at the Red Thread Building next door to his home. There, Codett said, Jasper "expressed his views" to Harding. He further mentioned that Jasper was arrested and spent a night in police custody, after the matter was reported.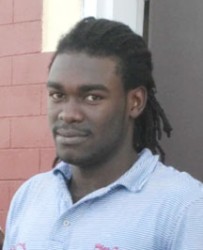 Cadet Officer Collin Primus, who served as prosecutor, told the court that Jasper confronted Harding and accused him of being a part of a robbery at his home. Primus said after Harding denied any involvement, Jasper drew a gun on him.
Harding, 23, had made headlines after he alleged that a police officer had raped him with a condom covered baton during an arrest last year at Timehri. He also alleged that he was assaulted on several occasions at the Timehri Police Station, where he was taken after his arrest.
Magistrate Geeta Chandan-Edmond subsequently ordered that Jasper pay a $10,000 fine for each charge with an alternative of three months in jail if he fails to pay the fines.
Comments

Defeat Tallawahs by 37 runs Chris Gayle, playing in his 50th CPL match, produced his 63rd T20 fifty as St Kitts & Nevis Patriots cruised past Jamaica Tallawahs by 37 runs to guarantee a place in the playoffs for the first time in their three-year history.

The Guyana Football Federation (GFF) has officially selected the Boys and Girls teams which will represent the nation at the Inter-Guiana Games (IGG) Goodwill Series scheduled for Suriname from the August 25th– 27th.

The Commission of Inquiry (CoI) into African ancestral land ownership began hearings yesterday with a significant portion of the first day's proceedings being dedicated to questions pertaining to the allocation of lots in the controversial 'Pradoville 2' Housing Scheme.

For another year, the opening of the National Toshaos Council (NTC) Conference was dominated by concerns about land rights, with Chairman Joel Fredericks yesterday calling out the APNU+AFC government for making decisions that affect land ownership without first seeking the Free, Prior and Informed Consent (FPIC) of affected Indigenous groups.