Goed Fortuin stabbing survivor has punctured lung
Tamika Miller, the Goed Fortuin woman who was stabbed 27 times by her husband on Monday, is now breathing from a damaged left lung.
Miller, 29 of 18 Goed Fortuin, told Stabroek News in a telephone interview yesterday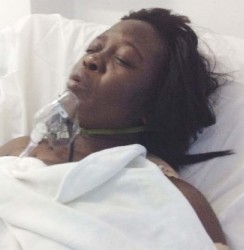 that she has learnt from doctors that her left lung is punctured. Miller, who is an admitted patient at the Georgetown Public Hospital, said she is otherwise on the road to recovery.
Miller's assailant, the now deceased Andrew Patterson, 32, stabbed his wife of eight years and later hanged himself.
Most Read This Week