Witness statements being sought in Rodney probe
Members of the public who are interested in testifying before the Commis-sion of Inquiry into the death of Dr Walter Rodney are being invited to submit witness statements.
In a notice in Stabroek News, the Walter Rodney Commission of Inquiry said that in accordance with the Commission of Inquiry Act and the Terms of Reference for the probe, persons wishing to testify are invited to submit written statements to the Commission setting out the "nature and substance" of their proposed evidence.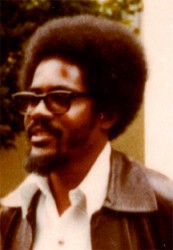 The statement submitted must contain the person's name, address and telephone number if any. The notice said that persons wishing to tender documents, books, plans etc should submit copies of these with their written statements.
Statements should be submitted on or before Wednesday, 26th March, 2014 to:
The Secretariat of the Walter Rodney Commis-sion of Inquiry
Supreme Court Library
South Street
Georgetown
The statements can be submitted in person during the opening hours of the Secretariat, Monday to Friday 8.30 am to 4 pm. Or by email to walterrodneysecretariat@gmail.com.
The Commissioners are to examine the facts and circumstances immediately prior, at the time of and subsequent to the death of Dr. Walter Rodney in order to determine as far as possible who or what was responsible for the explosion resulting in his death. The Commissioners are to enquire into the cause of the explosion in which Rodney died, including whether it was an act of terrorism and if so who were the perpetrators.
Further, the Gazette said that the Commissioners are to "specifically examine" the role, if any, which now deceased Guyana Defence Force member Gregory Smith played in Rodney's death and if such a role is found  to inquire into who may have "counseled, procured, aided and or abetted" him to do so, including facilitating his departure from Guyana after Rodney's death.
It was also stated that the Commissioners are to examine and report on the actions and activities of the State, such as the Guyana Police Force, the Guyana Defence Force, the Guyana National Service, the Guyana People's Militia and those who were in command and superintendence of these agencies , to determine whether they were tasked with surveillance of and the carrying out of actions and whether they did execute those tasks and carried out those actions against the political opposition for the period January 1, 1978 to December 31, 1980.
Additionally the Commissioners are to examine, review and report on earlier investigations and inquires done on and into the death of  Rodney.
Sir Richard Cheltenham, a Queen's Counsel and Barbadian national is the Chairman of the Commission, which is also made up of Jamaican Queen's Counsel (QC) Jacqueline Samuels-Brown and Trinidad and Tobago Senior Counsel (SC) Seenath Jairam.