By Desilon Daniels
Shawn Ravindra Ramai, the Guyana Water Incorporated (GWI) driver accused of causing the death of Claude McPherson in a hit-and-run late last month, was yesterday set over $2 million in bail on multiple charges after denying any wrongdoing.
Ramai, 36, of Lot 15 Norton Street, Lodge also faced three charges besides driving pickup vehicle PRR2923 in a dangerous manner and causing the death of 36-year-old McPherson on February 26 on Mandela Avenue.
The other charges were that Ramai failed to render assistance to McPherson, failed to stop after the accident, and failed to report the accident within 24 hours of its occurrence.
Initially, he had not been required to plead to the causing death charge. However, an application was made by Prosecutor Joel Ricknauth to have the matter heard and completed in at the Magistrates' Court instead of the High Court. Ramai consented to this application and later pleaded not guilty to the charge when it was re-read to him by Magistrate Judy Latchman. He pleaded not guilty to the three minor charges as well.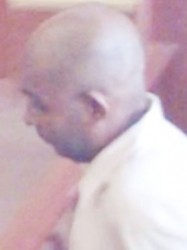 The man's lawyer, Jonas Coddett admitted that the accident had been an "unfortunate situation." According to him, Ramai, who had been employed for the last seven months with GWI, had informed his superiors about four weeks ago that the pickup vehicle assigned to him by the company had faulty brakes. However, Coddett said, the information was ignored.
On the night in question, Coddett added, Ramai had been on duty and was proceeding along Mandela Avenue at about 45 miles per hour. As he approached Trench Road, a person riding without lights rolled out without stopping at the main road and rode into Ramai's vehicle, he said.
Ramai exited his vehicle to see what had happened to the injured person. However, a crowd gathered and attacked him before he could investigate the condition of the unknown person, according to his lawyer, who said the man, fearing for his life, re-entered his vehicle and left the scene.
Coddett went on to say that Ramai had returned to work but had been in such a state of shock and confusion that he had simply lodged the vehicle and headed home.
According to him, the subsequent publicity of the accident prompted his client to seek legal representation. Ramai later turned himself into police custody on the advice of his attorney. As a precautionary measure, Coddett said, he had sought a medical checkup for Ramai and it was submitted to the police.
Ramai was later taken to the scene of the crime by police ranks from the Brickdam police station. During the visit, Coddett said, a congregation gathered and two van-loads of police officers had to be brought in to protect Ramai.
Ramai had even been assaulted in police custody by another prisoner, the lawyer added. However, he said his client would not be pursuing the matter.
As the lawyer related his client's version of the events, a distressed relative of McPherson ran out of the courtroom, weeping openly.
In an application for reasonable bail, Coddett noted that the offences were bailable ones. According to him, Ramai had never intended to run away from the police and his failure to report the matter was justifiable. If put on bail, he added, the court would have his assurance that Ramai would appear whenever summoned.
Coddett also said his client was married with three children and had been a licensed driver for six years without any previous incidents.
Prosecutor Ricknauth raised no objections to bail but requested that the defendant lodge his passport with the police as well as report regularly to a traffic officer at the East La Penitence Police Station.
As the conditions for Ramai's bail were being decided upon, another relative of McPherson stood up and informed Magistrate Latchman that the family had hired attorney Nigel Hughes to prosecute the defendant on the deceased's behalf. However, they had been belatedly informed about Ramai's court appearance and had not been able to contact the lawyer in time.
The woman was told by the magistrate that any prosecutor other than the state's would have to be approved by the DPP.
For the causing death charge, Ramai was granted $2 million bail. He was also granted $90,000 bail on the three minor charges; $30,000 for each charge. However, bail was only granted on the condition that he report every Friday morning at 9 to the police, even on national holidays.
He is due to make his next court appearance on March 27, when the matters would be called for statements.
According to previous reports, McPherson of 169 East Ruimveldt Housing Scheme, was struck down by the GWI vehicle as he attempted to cross Mandela Avenue on his bike around 9:45 PM. He had apparently been on his way home to collect his cellular phone when he was hit.
The post-mortem conducted on McPherson revealed that the food vendor had died as a result of multiple injuries, including a broken neck, fractured spinal cord and broken ribs. The man also suffered a severe open fracture to his hips and severe head injuries.
GWI had issued a statement stating that the driver had reported to work, submitted a written report of the accident and had later left after asking for "personal time" to visit a relative. Ramai had reportedly told the security guard at GWI that he had hit a horse.
Comments

SYDNEY,  (Reuters) – England's Jos Buttler struck a belligerent unbeaten 100 to set up a 16-run win over Australia in the third one-day international on Sunday, as the touring side took an unassailable 3-0 lead in the five-match series.

The Public Procurement Commission (PPC) hopes that by the end of this year debarment legislation would be in place as it will soon begin meeting with stakeholders on a draft.

A bill to provide a legal framework for the protection of witnesses was passed without amendment by the National Assembly on Friday evening despite arguments by the parliamentary opposition that it failed to take into account modern challenges.

The ownership of over $7 million in local and foreign currencies and several vehicles that were all seized during a raid by the Customs Anti-Narcotics Unit (CANU) at Soesdyke, East Bank Demerara on Friday has raised questions and a separate probe is expected to be launched.

Weeks after its major oil find at the offshore Ranger-1 well in the Stabroek Block, ExxonMobil's local subsidiary is preparing to begin drilling at the Pacora-1 well site in the same area.