School of Education and Humanities honours 62 graduates
Sixty-two graduates of the University of Guyana's School of Education and Humanities were honoured for their outstanding academic performance in 2013 at the faculty's Students Honour Roll Ceremony yesterday.
Graduates from both the Turkeyen and Tain Campus were honoured at the ceremony, which was held at the Education Lecture Theatre, at Turkeyen.
There were 18 graduates from the Department of Curriculum and Instruction, eight from the Department of Foundation and Education Manage-ment, six from the Depart-ment of Language and Cultural Studies, three from the Department of  Social Studies and 24 students from the Tain Campus and three others who were cited.
Dean of the faculty Alim Hosein said most of the students displayed a consistently high performance in each of their courses and obtained Grade Point Averages (GPAs) of above 3.6. The 62 graduates, he said, represented 10 percent of the school's student body.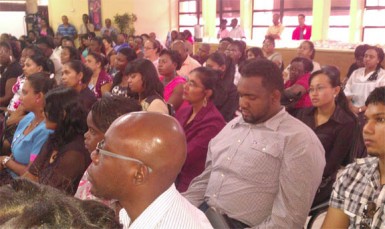 Hosein said he had decided to reintroduce the ceremony—which was the second since it started in 2009—because he believ-ed it was important that every university recognise its students' excellent performances.  "Our students do a lot of work and they don't receive recognition for it… we want to give recognition to the students," he explained.  "This is the best of the best," he said, before adding that "excellence is not something that a person achieves once but excellence is a habit that they carry with them."
Hosein also stated that he had reintroduced the journals of Education and Humanities, which he said would highlight the works of the lecturers in the public. "I thought it was something worthy enough to bring back," he said.
Meanwhile, Deputy-Vice Chancellor of the University Phillip Da Silva encouraged the graduates to develop themselves further and "carve out" successful careers. He stated that the best thing is that they were all young students and therefore they are "not constrained by old ideas."
Most Read This Week